FEATURED POST
This is a remake that will have plenty of folks "squealing in giggly anticipation"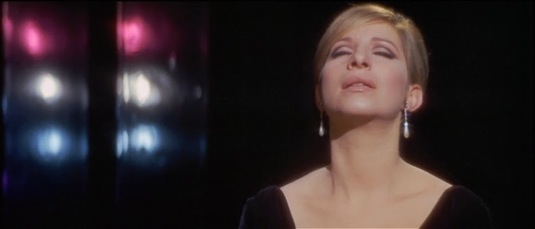 Yesterday my esteemed colleague, Corwin, wrote a post announcing that Barbra Streisand's decade-long quest to get a new movie version of "Gypsy" off the ground was finally moving forward. He seemed surprised by the Internet buzz (both positive and negative) about this project, claiming that no one under 50 even knew that the Tony Award-winning play existed.

Should we squeal in giggly anticipation, or slam our fists down atop our laptops in outrage? Or is this all just another, "eh, who cares? Hollywood pulls stuff like this all the time"-type situation?
Oh, Corwin, Corwin. Do I have to fly to the east coast and drag you, kicking and screaming, to a production of "Gypsy," the brilliant, dark 1957 musical about real-life stripper Gypsy Rose Lee, written by Arthur Laurents with songs by Jule Styne and Stephen Sondheim? I will strap you to that seat until you are begging for just one more chorus of "Everything's Coming Up Roses!" Most people agree (even straight people under 50!) that "Gypsy" is one of the most perfect musicals in the history of theater. Ethel Merman was the original Mama Rose on Broadway, followed in various revivals by Angela Lansbury, Tyne Daly, Bernadette Peters, and most recently, Patti LuPone, in an incredible production (that I saw twice), directed by the original author, 91-year-old Arthur Laurents.

I, for one, am thrilled that Streisand will be getting a chance to record a new film version of the complex and unsettling Rose Hovick, domineering mother to Gypsy Rose Lee and her sister, June Havoc. God knows Streisand has the chops for it, and unlike many other movie musicals, this is one that has always needed to be remade. Sure, the pairing of Rosalind Russell and Natalie Wood was fun in the 1962 film, both were excellent actors, but neither could sing a note and casting them in those iconic parts was a bit ridiculous. The new "Gypsy," as Corwin mentioned, will be written by Oscar-winning writer Julian Fellowes (who is also the creator of  the popular "Downton Abbey"). Where do I get in line?
As for Streisand being too old to play the part—hogwash! True, she's turning 70 next month, but her 70 is most people's 45. I can't think of anyone more suited to star in the definitive film version of this hallowed musical. Besides, Corwin, don't you remember how great 41-year-old Streisand was playing the young Yeshiva boy in "Yentl," her last musical? WHAT?! You haven't seen it? Where do I send the DVD?
"I HAD A DREEEEEEAM! A DREAM ABOUT YOU, BABY…"