FEATURED POST
A not-so-innocent abroad, in a tense, exciting character dissection.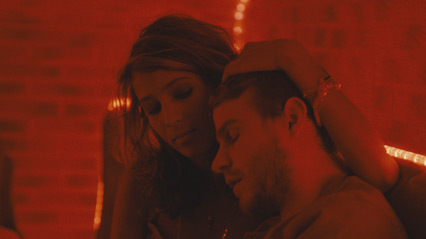 Rating: 4/5
After "Afterschool," Antonio Campos was a director to watch. When Campos helped "Martha Marcy May Marlene" happen as a producer, it was one more laurel to his name. And with"Simon Killer," debuting at the 2012 Sundance film festival, Campos has given us a film that's not, at first, as visually exciting or  scandalously shocking as "Afterschool"; instead, "Simon Killer" works its way under the skin with the wormy squirmy slowness of a parasite, or an infection -- and does so not by how much it shocks us, but, rather, through how much we've come to know our lead character, even as it becomes apparent that he is leading us to bad places.
In Paris, Simon (Brady Corbet) is roaming around, post-school, post-break-up. Simon seems nice enough -- a little troubled, a little at odds. But Simon is not alright, and a lesser film would rush ahead to establish that. Instead, "Simon Killer" takes us into Simon's attempts -- to be happy, to be in love, to have fun -- and we hope for him even as we're wincing at him, until we aren't doing either. We spend a lot of the film with Simon -- and not simply what could have been the indie-cliché following-the-back-o​f-your-head shots used. Simon's iPod choices and interior monologue both ring out constantly, and we're drawn into his world even as we realize that isn't the best place to be.  Simon is played by Brady Corbet, who previously played a young killer in "Funny Games." There, Corbet's cartoony killer was as funny as he was frightening, literally winking at the camera. Corbet goes after something else here, and finds it.