FEATURED POST
Their unlikely mother-son pairing is surprisingly poignant and funny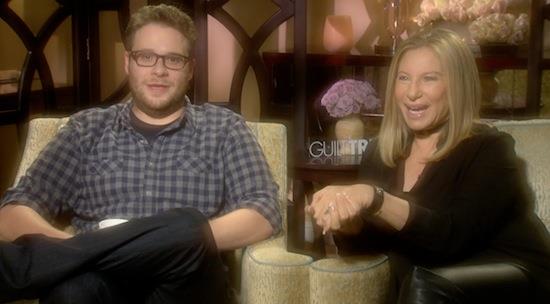 When I first heard that Barbra Streisand and Seth Rogen were starring in a film together, I was intrigued. How would their different comedy styles work together? Would Rogen's deadpan comedy meld with the talents of this legendary performer, the only woman to win not only multiple Oscars, Emmys, Grammys, and Tonys but also a Peabody Award, an American Film Institute award, and a Kennedy Center Honor? But within a few minutes of watching Anne Fletcher's funny new film, "The Guilt Trip," I completely believed that Streisand and Rogen were mother and son. Streisand's status as one of the most successful performers in entertainment history faded away and I laughed as she dispensed her mother's wisdom and agreed to accompany Rogen on a cross-country trip.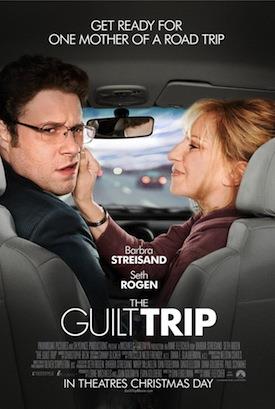 Dan Fogelman's script has plenty of laughs but is also very moving and real—one of the best movies I've seen about mothers and their adult sons. It clearly shows how much love can exist between people who drive each other absolutely nuts! Fogelman based the story on an actual road trip he took with his mother. The authentic emotions under the laughs appealed to Streisand, herself the mother of an adult son, so she agreed to take the part, especially after the urging of director Anne Fletcher  who couldn't imagine anyone else as Joyce Brewster. This is Streisand's first starring role in 16 years, since she directed and appeared in "The Mirror Has Two Faces."
To capitalize on the film's mother-son theme, journalists were asked to bring their own mothers to interview the pair. I can only imagine the reaction my Streisand-obsessed Jewish mother would have had to that invitation. Before she died in 1999, she was all about Barbra. Her favorite movies were "Yentl" and "The Prince of Tides," she saw Barbra perform at Mr. Kelly's in Chicago in the early 1960s, and she traveled to New York in 1964 to see her in the stage version of "Funny Girl" at the Winter Garden Theatre. 
Bing: Barbra Streisand | Seth Rogen
My mother-in-law, novelist Elizabeth Forsythe Hailey, has also been a fan since Streisand's earliest days in New York, and was thrilled to accompany me to the interview. As we sat waiting to talk to the actors, we chatted with the other mothers, many of whom were nervous about attending their first press event, much less getting the rare chance to meet Streisand in the flesh. As each mother left Barbra's hotel room, they were glowing. "She's seems like such a normal person!" they exclaimed. "She's so nice! It was like talking to a friend!"
As my mother-in-law and I sat down to chat with Barbra and Seth, I noticed how the two stars interacted with each other, sharing little jokes, disagreeing, and ribbing each other good-naturedly—just like mother and son! Despite her fame, Streisand does have a knack for putting her fawning admirers at ease. I felt that when I began the interview by calling Seth Rogen her daughter! I'd like to blame that word slip on my mother, bursting through from the other side to make an impression on her lifelong idol. It's funny—before seeing this film, I thought I'd relate far more to Seth Rogen's Andy Brewster, but, despite Barbra's character's embarrassing comments and her occasional smothering, I found myself agreeing with almost all of her advice to her son. Okay, mom. You win! 
Take a look at a bit of our conversation and some clips from "The Guilt Trip" after the break.