FEATURED POST
The Independent Spirit Awards will be handed out the day before the Oscars telecast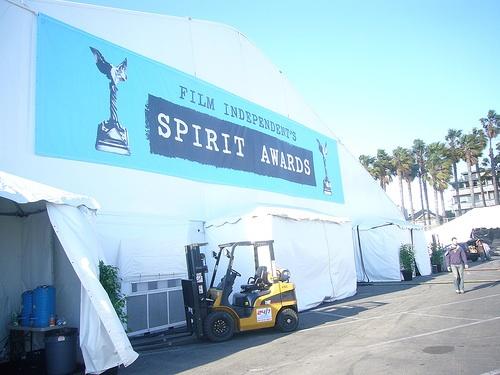 Does it say something about our culture that we have become so awards-crazy? The honors given out for the movie industry are so rampant this time of year that it's a wonder any new films are being made. This month alone we've seen the Art Director Guild Awards, the Visual Effects Society Awards, the BAFTA Awards, the American Society of Cinematographers Awards, the Cinema Audio Society Awards, the Writers Guild Awards, the Motion Picture Sound Editors Awards, and tomorrow night's Costume Designers Guild Awards. What's next? The First Annual Craft Services Awards for best on-set taco stations? How about the CVS Awards for the most outstanding use of Q-tips in a motion picture? Or maybe the American Shrub Society Awards for the finest performance by a houseplant?

Of course, all roads lead to the next Sunday's Academy Awards presentation, the crème de le crème of awards shows and the gala that provides studios with the biggest bang for the buck. After that, the Hollywood glitterati may actually hang up their tuxes and evening gowns and go back to making movies—at least for a few minutes until the festival season kicks up!
One of the last remaining awards shows that's worth a look will take place the day before the Oscars telecast. The Film Independent's Spirit Awards were founded in 1984 as an alternative to the glitzy Oscars. Its aim was to bypass the heavily promoted big-budget studio pictures and provide support for independent filmmakers—honoring films made for $20 million (or well under). But if you look at the list of this year's nominees, you'd be hard pressed to separate out some of the independent films from the well-promoted studio fare. The Oscar favorite "The Artist" is nominated for five awards, "The Descendants" and "Beginners" for four, "Drive" and "50/50" for three, Woody Allen's "Midnight in Paris" for two, and "My Week With Marilyn" for one. But at least this contest also cites a bunch of excellent films all but ignored by the Academy: "Martha Marcy May Marlene," "Melancholia," "Take Shelter," "Another Earth," and "Pariah," among others. Well, in fairness, I believe "Pariah's" release date made it ineligible for an Oscar until next year—and I hold out hope that its remarkable star, Adepero Oduye, might still have a chance with Oscar voters.
The Film Independent's Spirit Awards, unlike the Academy Awards, tries to be a much more casual, laid-back affair. Seth Rogen will be hosting this year's presentation on Saturday afternoon from a tent set up on Santa Monica Beach. The show will be broadcast later that night on IFC.  Check out the complete list of nominees after the break.