FEATURED POST
Questions of scale and the comfort of archtype ...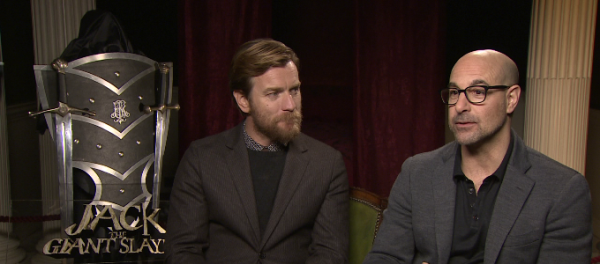 In "Jack the Giant Slayer," familiar roles from the structure of any halfway-decent fairy-tale get embodied by far more than halfway-decent actors. Stanley Tucci -- somehow both craven and a braggart -- is the villainous advisor to the King Roderick, who craves power for his own; with a stalwart air and great facial hair, Ewan McGregor is Elmont, the captain of the royal guard, clearly a hero through-and-through.​  We spoke with the two actors in London about their work, acting with giants, on on being made into a very large pancake.

MSN Movies: Mr. Tucci, you're playing the villainous adviser to the King; Mr. McGregor, you're playing the heroic captain of the guard. How good is it to play those kinds of parts in a film with this kind of tone?
Stanley Tucci: It's great. It's great. It's satisfying. It's fun. Its like you're a kid again, you know, throwing yourself into those really playful, into your imagination, you know, all that stuff that you loved when you were a kid -- medieval times and knights in shining armor and all that.
Bing: 'Jack the Giant Slayer' | Ewan McGregor 
I was saying to Mr. Singer that while there's a lot of biting and decapitation in this, I would take my nieces to see it no problem whatsoever. Is it nice to work on that level of adventure, where there's peril but not a lot of gore and not a lot of battle sequences?
Ewan McGregor: Yeah. I mean there's tension and battles towards the end of the film, but there's nothing that your children can't see or can't enjoy. And that's absolutely in keeping with the fairytales of the past where they're frightening. The giants are scary, but they're not so scary that your kids will have nightmares. They're scary in the right way I think. I would let my kids watch it. I can't wait for them to see it, in fact.
And has this nice pace and feeling of sensibility where it's not grisly, just good fun.
Tucci: Yeah, good fun. And my kids saw it with me, and they weren't. You know sometimes they can get a little nervous about stuff, and there weren't really nervous at all. They were excited about it, you know? It's fun, and the thing is it's also appropriate. Like there's nothing here that's like inappropriate for you kids, which happens often nowadays in movies no matter what they're rated.
McGregor: Yeah, yeah.