FEATURED POST
On the gravity of the situation and lucky casting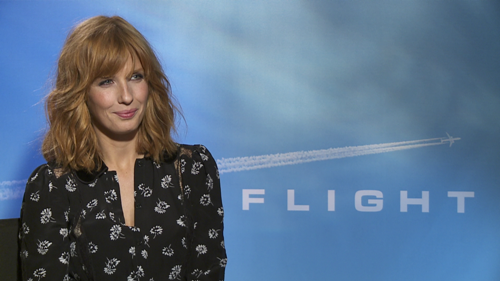 Kelly Reilly's face in "Flight" may look familiar to you--she plays Nicole, a drug-shooting basket case whom Denzel Washington's doped-up pilot finds and falls for. It's a love story made of equal parts compassion and codependency. And it's a far cry from her best-known work as Dr. Watson's love in the "Sherlock Holmes" franchise--but the change serves Reilly well. We spoke with the actress in L.A. about nervous flying, shooting styles and shoplifting accents. ...
MSN Movies: Your character in this ... American audiences have seen you in lace sleeves and bonnet as Dr. Watson's wife in the "Sherlock Holmes" films. This is very different. You've got tattoos, you've got crimson hair, you've got a variety of Southern, scandalous, warm-weather ensembles. Was it nice to do something so new and different?
Kelly Reilly: I like your summary of the character. (Laughs) Yes, it was. As an actor you always want to keep it different, change it up, and you know just to keep yourself inspired and work with interesting characters. The character that you spoke of ... that couldn't be more different from Nicole.
Bing: Kelly Reilly l Robert Zemeckis
Even your speaking voice as Nicole is kind of this chain smoker's purrr with the accent of the South to it. How long did it take to nail that down? Are you somebody who picks those things up relatively quickly?
Reilly: Well, not every accent. I really suck at a lot of them, but that one I really had a sort of a feeling towards, and then I went and worked with the dialect coach and got the sounds perfectly correct. And then I worked with my costume assistant on the movie, who's from Alabama, and I just loved everything about her voice, and I stole it.
And you would just have her pour words into your ear before the take?
Reilly: Talk to me before a take. Sometimes I would get her to say that word -- "Just say that word to me" -- and I would get her to listen to me just to make sure because I needed authentic, needed somebody who absolutely was from there to make it real.