FEATURED POST
'I think Poe was the rock star of the day ...'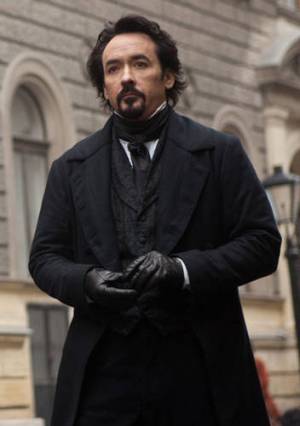 Ushered -- no pun intended -- into a hotel room to meet John Cusack to talk about his work playing Edgar Allan Poe in the thriller "The Raven," the actor's scribbling a list, frantically; music inspired by Poe, for a promotional bit of business. The Chicago-born actor may be aging -- as are we all -- but the familiar mannerisms from a career stretching back to the 80's are there: The hesitancy, the hand-thru-the-hair, the muted explosions of real enthusiasm. We spoke with Cusack in L.A. about playing Poe, why he so often plays writers, and his view of the late author as 'a badass ...'
MSN Movies: When you find out you're going to be playing Poe, to what degree do you roll up your puffy sleeves and just dive into the life and work?
John Cusack: Right away.
There's stuff we think we know, and then actually learning more about it. What were you most surprised to learn?
Well, I think, what I hope everybody does is maybe takes the time just to read him again. When you read him again, you see how prescient he was, how many genres he invented, how many styles he was capable of. You see him as a satirist, someone who's taken the ludicrous and heightened it to grotesque. You see him as a first person narrative, as a precursor to Truman Capote and Hunter Thompson and Norman Mailer, all these writers who write for themselves. You see so much there when you read him again. I think because he's iconic, he somehow becomes two-dimensional over time. When you reread him, you see, "My God, he started all this stuff. He started everything."
Was it also nice as you read the script to realize that this was in way an ignoble Poe, this ink-stained wretch, hustling for the next gig, always late on deadlines?
Yeah. I think there's something heroic about somebody that has the courage to be that honest about their neuroses and fears and troubles. I think he was a genius, a pioneer to the subconscious, but he was a badass, disagreeable ...
Occasionally drunken ...