FEATURED POST
Inert, like it's not even really trying...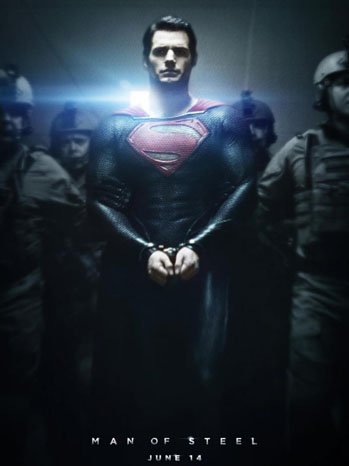 We don't get it. Superman has superhuman strength. Unless those handcuffs are made out of kryptonite, what are they doing on his wrists? Could the soldiers around him not be aware of his myriad superpowers? On the other hand, if Supes is being arrested—and the authorities know to bring soldiers to bring him in—they clearly know that he's capable of doing some damage, right? Are we missing something? Has Superman been humbled somehow?
As far as posters for next summer's hottest movies go, this "Man of Steel" one-sheet isn't even as compelling as the one for "Star Trek Into Darkness." At least
that
one heralded a possible new direction for the franchise: "Star Trek" as a superhero film, pitting the crew of the Enterprise against some world-destroying, becaped figure. This new "Man of Steel" poster, on the other hand, is just confusing.
What do you think, Hitlisters? Are you, too, being strongly reminded of the massive disappointment that was Bryan Singer's "Superman Returns?" The portentousness of the project. The Jor-El voiceover. The trailer showing Supes breaking the sound barrier. Everything we've seen of "Man of Steel" seems very redolent of what's come before it. And nothing's stood out as being particularly Zach Snyder. What's he waiting for? Where's the over-obvious song choices? The speed-ramping? The awesomeness just for the sake of awesomeness? Here's hoping that the film's full trailer—released shortly, before "The Hobbit"—assuages some of our doubts.