FEATURED POST
Make that two things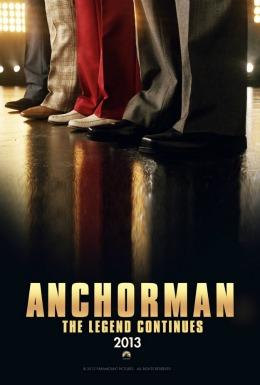 Just who the heck has lost a leg in the years between 2004's "Anchorman: The Legend of Ron Burgundy" and its currently-filming sequel? What? Two people have? Sweet Lincoln's mullet! Of course, this first teaser poster could just a victim of bad Photo-shopping. Or maybe two cast members are hugging and turning out one foot apiece! Perhaps someone is wearing multi-colored pants (money is on Steve Carell's idiot character, Brick Tamland).
After years and years of chatter, gossip, and false hope, the sequel to the beloved "Anchorman: The Legend of Ron Burgundy" is finally a go. As announced by star Will Ferrell earlier this year, the film is currently shooting and we should have plenty of marketing materials from it soon enough. But first up, this poster! Great Odin's raven,
what
is going on here? Is Ron Burgundy wearing
gray pants and black shoes
? Who is sporting those sweet red pants (a Burgundy staple)? And, really, why are there two legs wearing different color pants? What has happened to the Channel 4 News team since we last left them?
We'll just have to wait and see. For now, all we do know is that the film will reunite Ferrell, Carell, David Koechner, Paul Rudd, and more. And it's clearly still stuck in the seventies.
Check out a larger version of the poster, thanks to
The Lebanese Cinema Movie Guide
and
ComingSoon
, after the break. "Anchorman: The Legend Continues" will open sometime in 2013.