FEATURED POST
Horror, hilarity and lovable monsters ...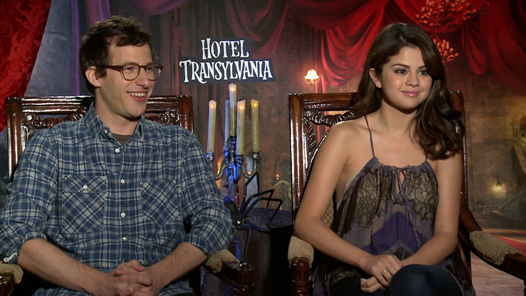 After watching "Hotel Transylvania," actually talking to voice-acting stars Andy Samberg and Selena Gomez is a little dislocating; they of course look nothing like their characters, but their vocal work is just close enough to who they are when being interviewed that you could close your eyes and still hear the parts they play. Samberg is Johnny, an enthusiastic backpacker who becomes the first human to stumble across Dracula's Hotel Transylvania, a monsters-only resort and residence; Gomez is Mavis, Dracula's 118-year-old daughter -- not a girl, not yet a woman, all vampire. Their unlikely romance provides heart -- and humor, even as devoted dad Dracula (voiced by Adam Sandler) tries to wrap his undead head around a lively teen romance. We spoke with Samberg and Gomez in Toronto about scares, monsters, Halloween traditions and the art of animation acting.
MSN Movies: How much fun is it to just throw yourself into a verbal performance when doing animation?
Andy Samberg: It's very fun. It's very loose, and it's, you know, very low pressure because you can kind of just try a bunch of different things and they'll pick what they like and make it look crazy and awesome.
But in your vocal performance Mr. Samberg, it sounds like you might strike people with your elbows. You just give your lines so enthusiastically.
Samberg: (Laughs)
Do you work up a body language playing Johnny?
Samberg: Yeah, you had to bounce around a little bit to play that part. He's very enthusiastic and very happy about life.
Is it nice to have a computerized version of you with slightly rubbery-er, more rubbery…
Samberg: (Laughs) Rubbery-er?
Rubbery-er? More elastic?
Samberg: More elasticity ...?
                                                                     BING: 'Hotel Transylvania' l 'Ghoulies'
More importantly, Miss Gomez…
Selena Gomez: (Laughs)
How do you tap into playing a 118-year-old teen? I mean that's a bit of a contradiction, right?
Gomez: A little bit.
Yeah? Sheltered life?
Gomez: Me, or Mavis? (Laughs)