FEATURED POST
The Oscar-winning actor loves diving into characters that help him learn about life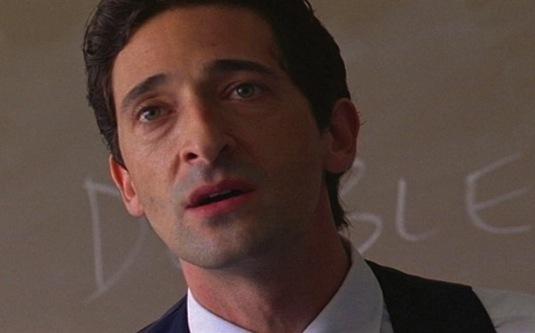 Since becoming the youngest person ever to win a Best Actor Oscar (in 2003 for "The Pianist"), Adrien Brody has continued making unusual career choices. He starred in a few big-budget studio films ("The Village," "King Kong") but has spent a lot more time displaying his considerable talents in quirky indies such as "The Darjeeling Limited," "The Brothers Bloom," and "Cadillac Records." Last year he was perfectly cast as Salvador Dali  (have you noticed the resemblance?) in Woody Allen's "Midnight in Paris." In his latest film, "Detachment," Brody plays substitute teacher Henry Barthes, a troubled man who has a very hard time relating to people and yet who manages to reach seemingly hopeless kids in a grim inner-city high school.
The riveting, hard-hitting film by director Tony Kaye ("American History X") features an extraordinary ensemble cast including Marcia Gay Harden, James Caan, Christina Hendricks, Bryan Cranston, Blythe Danner, Tim Blake Nelson, Lucy Liu, and William Peterson. It's a tour-de-force for Brody and a terrifying glimpse at some of the severe challenges facing public school educators today.
I spoke to Adrien Brody by phone and asked him if he thought the serious subject matter of "Detachment" might keep some people away.
Adrien Brody: I understand that concern and I know some people like to go to the movies to unwind and not have to think too much, but I also think there is something incredibly beautiful about the film. I think ultimately the movie has a very hopeful message that we can all do better and overcome our own suffering and get past our feelings of being isolated. It can be helpful to see that many people feel like we do.  I find these topics so interesting so I wouldn't scare people off by saying that the film is a "downer." But I do understand that there are some people out there who just like to go to movies to see things blow up!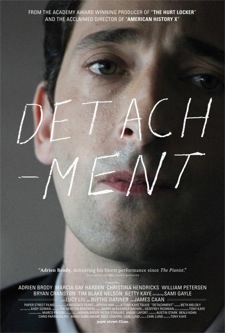 MSN Movies: It almost seems that Henry Barthes is such an effective teacher because, not in spite of being so disaffected. Since he feels he has nothing to lose, he's able to ignore all the crap that these kids try to throw at him and really see them as none of the other adults in the school can.
That's a really good observation, I never thought about it that way. I do think Henry is a remarkable teacher. I think it's less of a conscious decision on his part, he can't help but be compelled to impart knowledge, he's so angry and frustrated with so many things that he just has to share his insight, he sees how helpless those students are. I think he tries to not care, he tries to stay detached from it all, but in the end he can't help it.
The film presents a pretty bleak view of the urban school system. Do you think it's an accurate look at some of the problems many high schools are facing today?
Oh yeah, there are definitely schools like the one in the film that are scary and desolate places, and that is so sad. Of course not all schools are in that condition. But you know, I don't think the movie is condemning the educational system, I think it's just criticizing the flaws that are present in many different systems—the apathy that so many people feel, the kind of monotony that exists for so many people, just the lack of inspiration, that's the story we're telling. And people who are living that kind of life should be scared! I think sometimes by seeing that quality in others, it can awaken something in yourself where you realize you have the power to change.