FEATURED POST
'The Last Stand' marks the former governor's full-blown return to the screen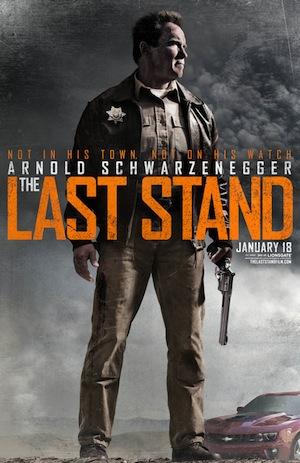 Within weeks of leaving office last year, Arnold Schwarzenegger announced, to the surprise of many, that he was returning to acting. While Schwarzenegger has an extended cameo in "The Expendables 2," opening this week, his first post-governor starring role will be as Sheriff Ray Owens in "The Last Stand." At right is the just-released poster for this film. 

Arnold's character, sick of big-city crime following a bungled narcotics sting, takes the sheriff's position in a sleepy border town. But his quieter existence is blown out of the water when one of the world's most notorious drug lords escapes from an FBI prisoner convoy just outside of his new town. Before he knows it, Arnold is heading up a team to capture the criminal before he makes it across the border. I think we all know what to expect from this film: lots of violence, bravado, a fair amount of humor, and a wink every time Schwarzenegger refers to his former life in Los Angeles.
Many actors have moved from showbiz to politics, but how many have returned to acting after leaving office? If Ronald Reagan hadn't been afflicted with Alzheimer's, would he have considered a return to the screen? (I always thought Reagan was an excellent actor — skills that no doubt served him well in the White House!) I wouldn't accuse Schwarzenegger of having Reagan's range, much less Meryl Streep's, but he does have a charismatic presence that seems well suited for the screen (and which played a big part in catapulting him from bodybuilding to Hollywood and the Governor's Mansion).
In addition to "The Last Stand," which opens in January, Schwarzenegger is involved in at least four upcoming films: "The Tomb" with Sylvester Stallone, "Unknown Soldier," "Breacher," and "Triplets," a sequel to his popular 1988 film "Twins" in which Eddie Murphy finds out he's another unlikely sibling to Arnold and Danny DeVito.
I'd like to propose a movie project in which Arnold appears with other actors who left the glamour of showbiz for a career in public service. Watch for this blockbuster starring Arnold Schwarzenegger, Clint Eastwood, Jesse Ventura, Glenda Jackson, Al Franken, John Gavin, and Shirley Temple Black as a band of rogue mercenaries who descend on Washington to change the system from within.