FEATURED POST
Sex and religion and Sundance and more: 'I love this country, and I think it's time for me to keep my clothes on.'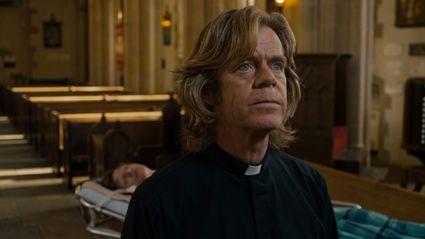 With his deadpan-yet-warm voice and a face familiar to any fan of great acting, William H. Macy is one of the many excellent reasons to appreciate "The Surrogate." Purchased by Fox Searchlight here at Sundance, "The Surrogate" is based on the true story of Mark O'Brien (John Hawkes) a writer, journalist and paralyzed polio victim who, at 38, hired a sex surrogate (Helen Hunt) to explore his own sexuality and, not coincidentally or lightly, lose his virginity. Macy plays Father Brendan, a Catholic priest who serves as Mark's confessor and guide -- who also becomes his friend. We spoke with Macy in Park City about sex in movies, violence in movies, religion in movies (you know, the small stuff) and why he's proud to be part of "The Surrogate."

Were you raised Catholic?
Macy: No. Lutheran. 
So when a director says to you, "You're going to be playing the Catholic priest in this." What do you do? How do you research it? Just you just go with the lines? Do you go for a feeling?
Macy: Well, it's all on the page for me. I'm not a big researcher. They had somebody there to put on the vestments and stuff, and somebody talked me through the protocol for blessing the audience and all that stuff, but no the questions asked of this character are obvious. You don't have to be a priest to wrestle with these questions.
When you learn, is it like learning how to be a traffic cop? Like, you learn the hand motions and get a fancy, highly visible outfit?
Macy: Sure. Well, I took my cue from the Pope. He messes up the cross all the time. I mean he's so sloppy about it, I thought if the Pope can be sloppy about blessing people, so can I.