FEATURED POST
Lionsgate execs deny the internet rumor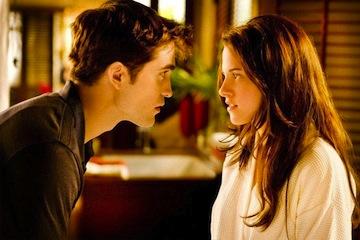 Say it ain't so, Lionsgate! After four hugely successful "Twilight" movies—and a fifth, the final one, on the way—rumors had been spreading around these here interwebs that the fledgling studio would seek to reboot the franchise, perhaps as early as next year. However, Lionsgate executive Rob Friedman has been quick to quash such rumors, and the hopes of insatiable Twi-hards everywhere, telling
Deadline
: "We are not remaking 'Twilight.'
"
But why not? With "Breaking Dawn: Part II" debuting this fall, Twi-hards will shortly only have the myriad DVDs, Blu-rays, original source novels, reprinted novelizations of the movies, comic books, the cooing faces of Edward and Bella adorning their precious "Twilight"-branded lunch boxes, and literally thousands of mediocre fan-fiction websites to sustain themselves. Meanwhile, the studio itself will only have the (even more) successful "Hunger Games" trilogy to make literally hundreds and hundreds of millions of dollars. Why pass such an opportunity up?
Sony only waited five years since the last "Spider-Man" movie to reboot that franchise, after all. Lionsgate could set the delirious precedent of rebooting the franchise only five years after the original. And it's not as if the first "Twilight" movie—or any of them, for that matter—are so good that a better-directed, better-acted, maybe grittier remake couldn't improve on them. Right?
What do you think, Hitlisters? Could a "Twilight" remake work? Is there room for improvement in the original, er, pentalogy? How about finding an actor to play Jacob who more closely resembles the character from the book (7'5", 360 pounds or something)? Or an actress to play Bella who actually has—oh, I dunno—a personality? Or even a single recognizable character trait beyond "clumsiness," a chipmunk-like overbite, and a blind devotion to her immortal, Greek-god boyfriend? Anyway, we digress.