Yipee-kay yay: 'A Good Day to Die Hard' aims for R-rating
Only one 'Die Hard' film didn't come with same rating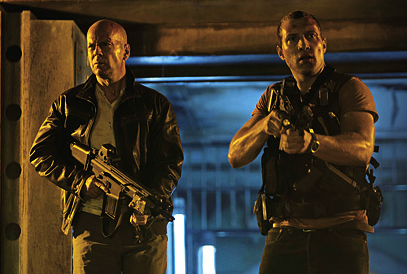 In minor-but-exciting news, the latest "Die Hard" film, "A Good Day to Die Hard," is now set with an R-rating. Sources report that the rating likely doesn't come care of overt violence or gore, but instead is due to the old "adult language," meaning that Bruce Willis' John McClane will likely be swearing up a storm again, a nice return to form for a franchise that includes the memorable line "yippee-kay yay, motherfucker!" Perhaps McClane's son, Jack (Jai Courtney), will have the same bad habits - isn't family fun?
Only one "Die Hard" film has arrived in theaters without the R-rating - the fourth installment, "Live Free or Die Hard." That film had a PG-13 rating, and while it still had some of the same action and violence of its predecessors, the lack of John McClane's filthy mouth made his character feel much more tame - and far different than what fans of McClane had come to expect. The return to an R-rating might be a small change, but it's an encouraging bit of news for this newest film. Hopefully, "A Good Day to Die Hard" uses all of its positive pieces to its advantage, and fans of the franchise get the new "Die Hard" film that they've been hoping for. 
/Film
reported the news, and their scoop was only backed up by the film's latest TV spot, which confirms the rating. Check it out after the break.