Interview: Director Gary Ross of 'The Hunger Games'
'It's not hard to imagine reality television being used as a political instrument …'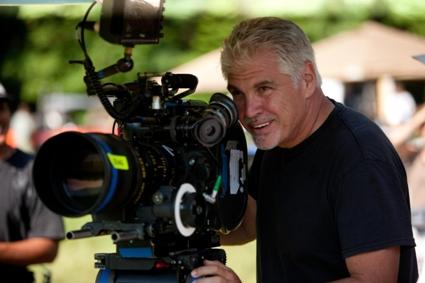 Gary Ross doesn't quite look like the man to bring the grimy Districts of Panaem and its sterile, glittering Capital to life, through either his appearance (artful-but-relaxed beard, bright eyes, easy smile) or his resume. But the man who directed "Pleaseantville" and "Seabiscuit" got the job to adapt Suzanne Collins' best-selling "The Hunger Games," and has now come out the other side with what I find to be, put bluntly, the most viscerally, technically and thematically
exciting
American science-fiction film since "The Matrix' in 1999. We spoke with Ross in Los Angeles about what drew him to make the film in the first place, his inspirations and aspirations, the apocalypses he grew up with and how you turn mortal combat into a PG-13 film without insulting the original work
or
the audience's intelligence.
MSN Movies: "Pleasantville, "Seabiscuit" … and a huge apocalyptic, political allegory with plenty of hand-to-hand combat. One of those things makes less immediate sense than the other two. Why this film? What specifically about this made it something you had to do?Gary Ross:
Oh, I loved the book. I thought it had a flawless
mind
. I loved the narrative. I thought that what Suzanne was investigating as an allegory – I thought there's a lot of dystopian literature, but there's not a lot that makes sense and has reason for being. I thought that the idea of this character, (Katniss,) who was fighting to preserve her humanity and not be complicit in a process that was demanding her complicity or for her to participate in this game was a really interesting one. The fact that she found an ethical and moral center in the face of this is
really
interesting. It's not hard to imagine reality television being used as a political instrument and the spectacle being used as a political instrument if you extrapolate into the future -- we may not be there yet, but the fact that she was kind of able to postulate that, I found very interesting. I thought that this thing had a lot on its mind that was fascinating to me.
When it came down to actually shooting the Games, was your model action films or documentaries or sports footage?
That's a good question -- probably more documentary, certainly good action films. I think obviously there's a slight verite quality in the way that I shot this. Sports footage, I don't know, although when she's running through the fire I did use a cable-cam. I actually used the rig that's used in the NFL as she's running through the trees and the woods are on fire.  
Is this a film where you find yourself reading it and going, "I couldn't have made this five years ago ten years ago?" Was it that dependent on technology in a bunch of tiny ways?
In some ways, yeah. Yes in the respect (that) I don't want CG to ever be apparent. There are twelve hundred CG shots in this movie, but hopefully they're not apparent to you I think the CG is an instrument to create reality. I don't think it's an instrument to create a heightened reality. It may be in some cases, but it isn't in this case. I wanted it to support the verite nature of the film. When you're trying to make a movie that feels as real as this, and you're shooting in a verite style, to integrate CG mostly so that it doesn't feel like the movies jammed up in a computer is a challenge in and of itself. Technology has advanced to a certain point now where you're able to do a lot of that. Now, I just made an animated movie a few years ago,("The Tale of Desperaux"), and that had twelve hundred shots in it. Twelve hundred CG shots is a pretty big plan. I don't know that I would've been ready to do this five years ago, to be honest with you. I think that I (grew) aesthetically in a way that I knew how to do this now. There's a vibrancy in the process that's necessary, where you listen to the movie as you're making it. I think in the beginning of my career I prepped, and I tried to catch what I did in the prep, and this time, like the inclusion of the scenes with Donald Sutherland and things like that, I just learned to listen to the movie more, and make the actual process of shooting the movie more an active creation and less of a locked down process, where I'm trying to get my script ready to go, my decisions were in the proper, and shooting my story boards. I don't know that I would've been ready for that (five years ago); I don't feel like I would have been.
Nowadays when you shoot, you shoot the script, but you're willing to grab whatever else comes up?
I listen to the movie, and because I'm a writer, I'm not afraid to write in the scene. If something isn't working, I'm not afraid to scribble some new lines or to try something else or, in the case of the situation with Donald, include a couple of new scenes where that's appropriate. You have to listen to the movie while you're making it. I think that's important.
There's a challenge here, where you had to say "This is about violence, death. This is about brutal violence. But if we don't get a PG-13, we might as well make a thing with sock puppets, with the budget we'll make back." How do you balance that?
It was fortunate because I'm shooting from her point of view. When you're shooting from a character's point of view, one doesn't need to digress into a large kind of set piece and then come back to the character's point of view, because in her point of view is the her subjective impression of the violence around her. It would've been inappropriate to digress into a lengthy bloodbath. You've seen the movie so you know we didn't back off the violence, but because you're seeing it through her eyes the amount of that is limited and appropriately so. If there were no ratings, I wouldn't have shot it differently than I did. It's just I think that we ended up with a PG-13, because this is much more Katniss's impression of the violence around her than it is an omission (of) the violence.
She can't help but see, but she doesn't have time to gawk.
That's a better way of putting it. She doesn't have time to gawk. She can't stand there, take in this panorama of blood, she's got to get to a backpack and a bow and
get on with it
. Those quick impressions maintain the tension and yet also serve that end.
When you were in your teens, what was your relationship with the Apocalypse like?
Well, "On the Beach" I remember seeing, obviously. That's what everyone saw. I think I saw "Fail Safe" a number of times. It always scared the crap out of me. "Dr. Strangelove" was and is one of my favorite movies ever, and I just can't believe they actually blew up the world after that. It's interesting -- in "Fail Safe," as well, they didn't back off. We were raised with kind of this spectrum of that Armageddon and lived under it, so those were probably the films. "Fail Safe" sort of haunted me.
Do you look at stuff when you're creating the visual feel of a film? Because a lot of District 12 looks like it's out of  1941's "Let Us Now Praise Famous Men."
Oh, really?
It really looks like Dorothea Lange Dustbowl-era photographs.
I'm so familiar with Dorothea Lange that it wasn't like I had to pause and sort of look at the reference. I think this just would've been my own memory-library that it was easy to pull upon in production design. Both Phil Messina and Judianna Makovsky, the costumes and production designer, they worked together before. We integrated palettes so consistently well that we were all on the same page rather quickly. Phil and I admitted very early that we weren't going to do a movie version of this depressed District. We were going to find the broken concrete, the straw stiff huts, the metal roofs, this dilapidated mill town that we were shooting in. We weren't going to pretty any of these up. These frames aren't pretty, as you know. It's not a produced version of poor people; it's the real deal. That has to do with keeping this whole thing real. Other references? When I went into the capital I had another glance at (Nazi Architect) Albert Speer that you mentioned last night when we were talking. There were references like that, but Phil and I went over a ton of references. Mid-Century brutalism, which uses concrete and lots of it, as a principal building material to impose that sort of stark might and authority. That was a big reference.
You wrote "Dave" which is one of the most optimistic films ever made about politics, and now you've written this, which might be one of the most pessimistic films ever written about American politics. Is it nice to take the bad news out for a walk?
Oh, absolutely. I don't mind making an apocalyptic warning at all. I don't mind the cautionary tale (aspect) of it. I feel strongly about it. I think we
need
that kind of a cautionary tale right now. I do think there is a hint of optimism in this. Not to try and knit all my movies together, but Katniss drawing the line in the sand, finding her own ethical and moral center, the assertions of herself as an individual against the state, that's a note of optimism. If it says anything, it says, "Look, the state's not going to morph. You're going to change, and you're going to have to find who you are in that." It really comes down to the individual, because we can't hope the state will change. Yeah, it's a lot bleaker, but kids have been drawn to this for a very specific reason, because it's the struggle; it isn't the victory. We don't always have to show them a victory. We
do
have to honestly engage the struggle.
(
"The Hunger Games" opens March 23rd
.)