Interview: Omar Sy of the French Blockbuster 'The Intouchables'
For his first big role, Sy won Best Actor in the César Awards, beating out Jean Dujardin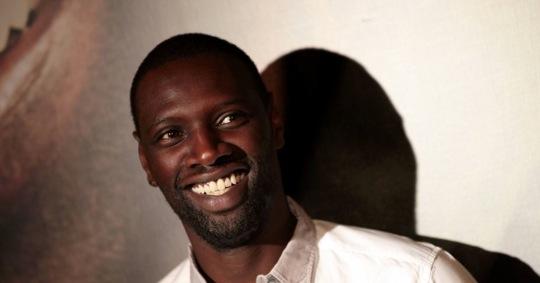 Directed by Olivier Nakache and Eric Toledano, the French film "The Intouchables" has created a sensation all over Europe since it was released last fall. The film, based on a true story, recounts the unlikely friendship between a wealthy quadriplegic named Philippe (François Cluzet) and his caregiver, Driss (Omar Sy), a down-on-his-luck guy of Senegalese descent. The funny and heartwarming film broke box office records in France and was voted "cultural event of the year." It has finally made its way to our shores and—gulp!—the Weinstein Company is already developing an American remake. Trust me, you want to see the original!

François Cluzet ("Chocolat," "Too Beautiful for You," "Tell No One") is an award-winning veteran of international films while Omar Sy is a relative newcomer. The chemistry between these two men is palpable and gives this feel-good movie added strength and appeal. In February, Sy defied the odds and beat out worldwide favorite Jean Dujardin ("The Arist") to win the Best Actor prize at the César Awards, France's equivalent of the Academy Awards. I sat down with Omar Sy this week in Los Angeles.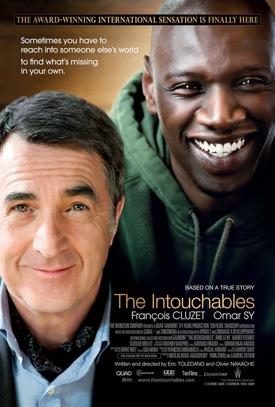 MSN Movies: You give such an extraordinary performance in this film. How did you first get involved with the project?
Omar Sy: I'd been working with Eric and Olivier for a while on a series of small roles that kept getting a little bigger with each film. After our third movie together, they had found this documentary that told the story of these two men from such different backgrounds who developed this unusual and intense friendship. They showed me the documentary and said that they were going to write it as a film for me. If I wasn't interested, they weren't going to do it! It was such a fantastic gift!
Did you get a chance to meet the real people on whom your film is based?
Yes, before we started filming I went to Morocco with François Cluzet and our directors to meet Philippe who lives there now. We spent three days there and talked to him a lot about his friendship with Abdel (who became Driss in our film) as well as his accident and how he coped with his handicap. What most impressed me during our time with him was how he spoke about Abdel with such love. I decided not to meet Abdel until afterwards. I felt such a responsibility to this part and I wanted to make sure that I gave it my all and that I wasn't trying to imitate anybody else.
I finally met Abdel at the premiere. Philippe and Abdel were both there and we sat in the same row with them in the theater. I can tell you, I wasn't watching the film that night, I was watching the two of them watching the film! We saw them laughing and enjoying the film and were so relieved! They really loved it. Philippe told François that it had been a long time since he'd looked in the mirror and that he really liked what he saw. What a great compliment!
How was it working with François Cluzet? The chemistry that is apparent between you to is so important to the story and to the film.
I didn't know François before we made the film. He's a very famous actor with tons of experience so I was a little intimidated at first. But I was so lucky to have him as my partner. Our relationship developed as organically as the people we were playing. François is incredibly generous and he gave me so much. He told me something on our first day of shooting that meant so much to me. He said, "Whatever happens, just remember that you are playing for me and I'm playing for you." That that was exactly the thing I needed to hear, it put me so much at ease. Our relationship was so pure and equal. The more we acted together, the more I got from him, not just as an actor but as a human being. He's fantastic.  
Because Driss was written with you in mind, did you have a hand in creating the specifics of this character?
Yes, we all talked about all sorts of things. Driss's world is one I know very well, I grew up in that area and brought my experience to the writers. We made a lot of changes to the script to make it seem as realistic as possible. We worked hard at making the dialogue sound very natural.
Were you surprised at the huge success the film has had in France and other countries?
You always hope that the film you're making will be successful but the extent to which this film was embraced was a surprise and we were thrilled. I think because there's so much uncertainty and misery in the world right now, people are just hungry for a story like this, a story of friendship and hope. You can see how both of these characters save each other and that's very comforting. And I think people really responded to the fact that the film is based on a true story. Usually if people like your performance, they stop you on the street and say "Bravo!" With this film so many people came up to me and thanked me!
I know you're familiar with the criticisms the film has received by a few American critics for having some kind of "racist" undertone and the accusations that it's some kind of "Uncle Tom" story.
Yes, I am. It's interesting—we had none of that in France, or anywhere else where the film has played. I think what happened here is that some people watched the film with a totally different context and brought in their own stuff about the history of race relations in this country. We didn't have such criticisms in France because the French understood the context. The switch of Abdel, for example, who is Arabic, to my character, who is from Africa, that freaked out some of the American critics. In France, that change had no impact on the story. Both were immigrants from the same part of Paris with exactly the same social dimensions. But here, for example, if you have a story about a Latino immigrant and then change that to a black person, that's very different. A black person in the United States is obviously not an immigrant, it's someone whose people have been in this country for hundreds of years, who is here because of slavery. It's a whole different story. 
I think some people here go nuts any time there's a rich white guy who employs a black person in a story.
Yeah, for the American critics, having the caregiver be black was some kind of statement but for us, it was nothing. I only wish I could talk to those critics and try to explain the context! Here, groups tend to be very separate from each other. In France, you can travel the world from one floor to the next in one of these big housing projects. You can start at your Chinese neighbor's apartment, go upstairs and be in Morocco, go down the hall and and talk to the Portuguese family, run downstairs to the West Indies, and so on!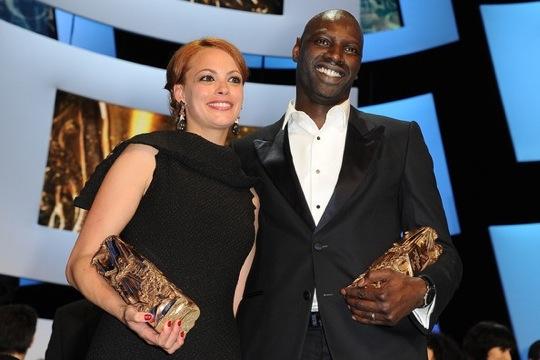 I have to ask how shocked you were to win the Best Actor César this year over Jean Dujardin when he was winning every award around the world!

Oh my God, I was totally shocked, I never expected to win that award! Just the fact that I was nominated with all those amazing actors was already a miracle, really unbelievable to me. It felt like such a victory to be included with all those great actors for my first big role. So to WIN was just insane! I was very surprised and very honored but I was also happy to see that Jean Dujardin won the Oscar a few days later!
How are you coping with the added fame and attention that comes from winning an award like that and being in such a popular film? Does it ever feel like a burden?
Oh no, it's cool, I love it! It's great—now producers are coming to me and asking me what I want to do. I feel like it's a whole different kind of career that's starting for me.
What are you working on now?
I'm shooting a film called "L'écune des jour," I think the English title is "Moon Indigo." It's directed by Michel Gondry ("Eternal Sunshine of the Spotless Mind") and also stars Audrey Tatou and Roman Duris. It's based on the novel by Boris Vian that's a real classic in France, we all read it in school. I have a big role in the film. After that I have nothing planned yet. I'm looking!
Any interest in making an American film?
Of course, I'd love to! I'm doing my best to learn English as quickly as I can so I'll be ready if anything comes up!
("The Intouchables" is playing in select cities.)