'The Hunger Games: Catching Fire' Gets Its Mags - And It's Not Who We Were Expecting
When will we get our Finnick?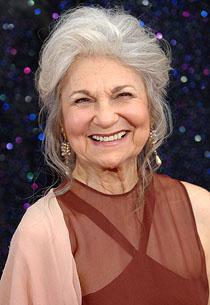 Despite a heated rumor (first reported by
Variety
) that Oscar winner Melissa Leo was on the shortlist for the role of Mags in the upcoming "Hunger Games" sequel, "The Hunger Games: Catching Fire," Lionsgate has gone with a much more appropriate choice in Lynn Cohen.
The studio announced today that the former Hunger Games winner and District 4 Tribute will be played by Cohen, putting the recognizable actress into a plum role in an already-beloved franchise. You might know Cohen from her work in "Munich," "Synecdoche, New York," and "The Station Agent." She has also appeared in a whole mess of television, including her most memorable role of Magda, Miranda's brisk and loving housekeeper, in the "Sex and the City" series and films. She's a wonderful pick for the part of the unexpectedly wily elderly victor.
Lionsgate appears to still be holding out on announcing their casting of fan favorite Finnick Odair until the very last moment. Rumors once named actors like
Armie Hammer, Taylor Kitsch, and Garrett Hedlund
for the role, though "Snow White and the Huntsman" co-star
Sam Claflin appears poised to be the final pick
. Whoever ultimately grabs the role of the beloved Tribute, the news will first be posted on
www.CatchingFireCast​ing.com
by Lionsgate directly.
"The Hunger Games: Catching Fire" will be directed by Francis Lawrence, with a cast packed with returning members (Jennifer Lawrence, Josh Hutcherson, Liam Hemsworth, Woody Harrelson) and new picks (Philip Seymour Hoffman and Amanda Plummer among them). The film will be released on November 22, 2013.