Interview: Director Joss Whedon of 'The Avengers'
'I think most of my vital organs have fallen out of me, and so I need to find them.'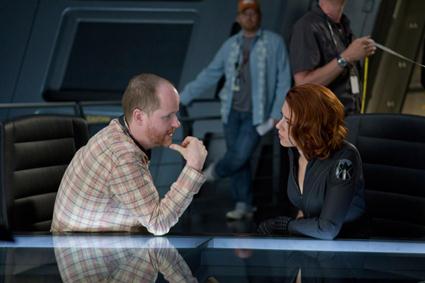 Haggard, hoarse, pallid and yet still talking – the directorial equivalent of "bloody but unbowed" – writer-director Joss Whedon is willing to talk about his new Marvel Comics mega-film, bringing a group of the company's heroes together into one film, but the flesh is a little weakened. Whedon's made his career on big ensemble pieces with snap, crackle and pop-culture fun, but this is the biggest budget and biggest canvas he's ever worked on -– coupled with the fact that unlike "Buffy the Vampire Slayer," "Firefly" and some of his other projects, these aren't his characters. We spoke with Whedon in L.A. about team dynamics, the paradox of special effects, and what he needs to do before even thinking of signing on board for a sequel.
MSN Movies: Looking at your career in a line going from "Buffy" to "Firefly" to this, did you just think of becoming a group dynamics therapist? Would that be easier, or would that just not pay as well?
Joss Whedon: Family counseling? No. Yes? I think certainly I'm not very good at it, because these characters argue all the time.
Tolstoy reminds us that all happy families are alike, but every unhappy family is unique in its own way.
That's true.
What for you is the key of getting into the heart of how this family of people, The Avengers, is unhappy?
That's why I took the job. What makes them unhappy is their own isolation. They are very resistant to the idea of family, of unity, of being a team. Ultimately, that's what ends up defining and saving them.
A lot of directors, when they're attacking special effects-intensive projects, you get a lot of stuff at night, or you get a lot of stuff in space, where it's easy to do the green screen and the CGI. You have broad daylight battles. How hard is it to make that stuff not just look good, but also look real?
I don't think it looks good if it doesn't look real. That veracity is the most important thing. You want to fee like this is definitely happening. I am very strict about letting people feel the space that something's happening in, and the environment has got to be a key part of it. Generally you just try to mix just as much practical with CGI as possible, so people really don't know where one begins and the other ends.
You're working with actors, who in most cases have a stewardship with these characters, Mr. Downey, Mr. Hemsworth, Mr. Evans. Did you talk to them about things they'd like to see or do, or no? You just went with it?
We talked extensively about "What do you want more of or less of?" or "How do you feel about your character? Here are my thoughts, what are yours?" It was very much a collaboration from the start.
I take it you're not going to contemplate the possibility of signing on board for number two until your voice comes back, at the very least?
Yes. I think most of my vital organs have fallen out of me, and so I need to find them.
The great thing about comics is that it's the really weird, fluid, medium of ideas. You can have a bad guy who's just a disembodied head. You can have talking bears. What's your favorite "Yeah! Comics!" thing that you knew you couldn't get into this film, because people wouldn't accept it?
We did spend some time thinking about (shrinking and flying Marvel character) The Wasp, and I just could never get around (the question of) what's her costume trick?
Right, we've got this person who can shrink. How does the costume work? Where do they put their keys? Is the mix of the mundane and the mythical what makes the Marvel movies work? The fact that Iron Man takes his mask off and immediately wants a certain type of snack food … is that what brings it to life for you?
Yeah. That's sort of the benchmark of the Marvel Studios movie, you know? The human element mixed with the iconic is why they hire such great actors to play these roles. They want people to relate to them before they see (the icon) ...

Watch the interview here.
("The Avengers," as you may have already noted, opens this week.)