'One Day' Director Lone Scherfig
On the Epic, the Intimate, and Shoulder Pads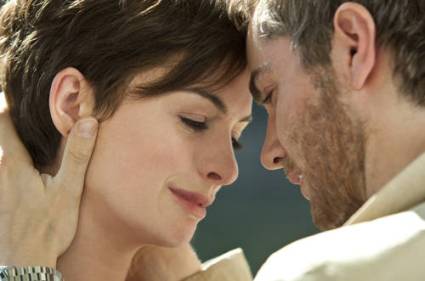 With its low-wattage cast and Brit-lit pedigree, no one expected "An Education" to become a hit -- but it did, garnering Oscar nominations for Best Adapted Screenplay, Best Actress Carey Mulligan and Best Picture. Director Lone Scherfig returns to the fields of British literature with her newest film, 'One Day," based on David Nicholls best-seller, following two people -- Anne Hathaway's Emma and Jim Sturgess's Dexter -- through two decades of their lives by checking in with them every July 15th. We spoke with Scherfig in L.A. about boiling two decades down to two hours, the surprise success of "An Education" and how the changing film industry makes it harder and harder to make films about, and for, grown-ups.
How did you become aware of David Nicholls' novel?
Scherfig: He had written the script before I was involved, so I drafted the script and then read the book. It was the other way around. I spent a lot of time here at that time, and the book wasn't out in the United States -- or in Denmark, where it wasn't out, either. It was in all the bookshops in London and all the windows and all of the counters. It was very quickly very popular. It's a great book; it's now on the bestseller's list here again. It's a good read.
In a lot of ways, it's got to be the emotional equivalent of a page-turner: You want to know what happens next.
Scherfig: You like them very much; you enjoy being with Dexter and Emma. They're easy to identify with. The structure where you check in on them on the same day every year forces, the structure he has forced upon himself, makes him make strange decisions or interesting decisions about what happens when you do meet them. Of course that had to be turned into something that was cinema in a way so that you feel it can only have been done as cinema so you don't feel you've been watching an adaptation and where you forget that it's a book and it feels like a film.
I always think about adaptation in terms of narrative compressability: Can you fit 'Doctor Zhivago' into X number of hours? Can you fit Y amount of material into limited hours of a film? How do you make this not feel too swift, not feel too rushed in order to fit it into the running times of film as opposed to the more elastic space of a book?
Scherfig: There's a lot of detail that is packed into this film that is just there, that you can decide to go with and look at or not focus on. You don't have to look at the old cars or listen to the music of the '90s or be interested in how wide the shoulder pads are. I'm hoping that it's solid enough to not overpower the emotion, that time jumps are there and they are entertaining but they don't take you away from the characters. David himself, having written the script, had made the decisions about what to make. It isn't 'Doctor Zhivago.' It's a fairly light book; it's a wonderful, very accurate description of a specific place at a specific time. The problem of dealing with something that's truly epic, we've not had that problem. I think it's a very flattering comparison, and actually I love that film.
You do have a 2-decade long span of star-crossed lovers. You're saying it's not epic, but at the same time, there's such fuel on the table by the end of it, and you do build that up; there's a slow process of accrual, and you get really invested.
Scherfig: We do have an ambition of making something that can become a classic love film. I think the definition of something epic is that it's about the time and not the clout. Zhivago is Russia; Scarlett O'Hara is the South. In a way, Emma and Dexter are living in the '90s but the scale is much smaller. You came up with that comparison; I didn't. We do hope that it will have the appeal of a classic, romantic, very emotional thing, like 'Love Story' or 'The Way We Were,' all these heartbreaking films of my youth.
When you're determining things like, "Emma's glasses need to look like this," or "Dexter's shoulder pads need to look like this," do you have to reign it in so it doesn't look too big and too obvious and too much like a TV sketch?
Scherfig: When the scenes have more humor, you can go a little further. At certain moments you really wish you would have pulled back, because technology gets involuntarily funny very quickly, for instance: oversized cell phones. Sometimes people look poor because their clothes are old. When people wear clothes from the early '90s, they look like they haven't had any new clothes for 20 years and not period. It's harder to do recent period than something that takes place in the '50s, for instance. Then everything immediately looks right, just because everything looks spot-on even if it isn't.
Obviously there was resisting the impulse to Americanize it; at the same time, you do have an American actress playing Em, hurling herself into it and doing a good job with not just accent, which is very drama school, but the comedic sensibility you would expect someone like Em, who's a striver and smart and not quite posh and working-class but uncomfortably in an upper-class environment. How much work did that take to get that with Ms. Hathaway? Or did she show up, having done a lot of work?
Scherfig: She does do a lot of work. She's very, very diligent. The book was helpful in terms of getting to known Emma. We did some rehearsing, but some of it was a period that Anne remembers, and she too -- even if she's been much more goal-oriented than Emma Morley and known what she wanted to do at an earlier age. She thinks, she says she knows Emma Morley very well and it's not hard for her to identify with someone, and is very smart, well-educated, well-read, insecure like Emma Morley. Emma's most basic character traits are in Anne. I'm not saying that Anne is a nerd, but I was surprised at how smart she is. She's far more intelligent than most of the characters she's played, and that very often is rare, that when you meet actors they fade a little bit in comparison with the heroes you've seen them play. I don't know if that answers your question.
Were you prepared for just how fiercely 'An Education' took off?
Scherfig: No.
It took you by surprise that everyone was talking about the film? Here's the thing: A lot of people talked about the film because of Ms. Mulligan and it's a delightful performance; that, to me, is missing a lot of it, that it's got a great script, a great supporting cast all the way down -- Alfred Molina -- it's perfectly pitched at this exact moment in history where we didn't have feminism but needed it desperately. Did you expect it to take off so much?
Scherfig: No. It's like playing the flute when everyone else has a symphony orchestra, like cooking just an omelet at a 5-star restaurant.You have to trust that something that is simple and small has a right to be there. I think what I've learned from it -- that and the other films I've done -- is that quality not always has to do with a scale. It's helped me a lot with 'One Day' that I know how to work or make fast decisions and work on a small budget, but it was bliss not to have to, to be able to use much more of my craft and work with a bigger crew, more lamps, access to much more music, more strings in the orchestra and to know that we had American distribution, because when you do films in Europe, you have to work at small scale because you don't know if the film's going to cross over to the size of audience that you can find in this country.
It seems like the film industry's turning into Brazil: There's no middle class. Your movie either costs $200 million or $2 million. This is in between. Do you find that it's getting harder and harder to make the movie for grown-ups that costs around $20 million?
Scherfig: We did that. The way I noticed it was that people from the crew talked about that they felt fortunate to get a job on one of the few films that were made that still have that ambition and you had the possibility to do your craft properly and not compromise as much as you have to. To made this kind of film, this film could probably not have been done on a much smaller budget. It wouldn't have suited the film if the budget had been much bigger. The identity of the way you decide what kind of film machine you're going to use to get the best out of it has a lot to do with budget, and this film belongs in that range. I know how to work with extremely limited (budgets). People knew -- and because there wasn't that much going on and there was a financial crisis -- it's the one film I've ever done where people actually talked about that they felt fortunate or privileged to get that kind of job. They knew that it's going a bit in your direction, or the direction you're describing. It can change again, but of course it's a reaction to all the secondary: The DVD market changing, the whole way you see films changing.
Mr. Sturgess: Was it unexpected how good he was? I've seen him be good in things, but he's really ridiculously good in this, and the more gray you put in his hair, the more handsome he gets. Was it a bit surprising, or were you completely confident from the audition process that he was going to do it?
Scherfig: It's surprising that he is has as little ego as he has. It's surprising to me that his personality came as a surprise, that it was not just, "He's very kind" on the first day; he was also very kind on the 42nd day -- modest, humble, focused -- that I didn't know. He's courageous: He dares to not defend Dexter all the time, that he makes brave choices and he dares being unsympathetic for a while, that he orchestrates his performance well. He has done quite a few films, and I think he ahs worked with some very interesting directors, so I think he's never played it safe; he's never done anything that's obvious. Maybe he will get scripts now where he gets more traditional material. Hopefully he gets a lot that he can get his hands on and get challenges, because I think he'll live up to them.
Are you somebody who watches stuff to get a feel for things? Did you find yourself watching any films before watching this?
Scherfig: Yes, I did, but that was more about makeup changes and time jumps. If I should pick a favorite out of that pile, it's 'Once Upon a Time in America.' The films that I like are much more genre-oriented. I like something where the craft is sublime. I like the big auteurs and the American big auteurs -- the challenge of how to make time work for the story is something that I would see what have other people done, but I wouldn't watch good films in order to see how to make the chemistry between two lovers work on film.
 ("One Day" Opens this Friday.)