Interview: Clark Gregg and Cobie Smulders of 'The Avengers'
Secret agent blues, leotards vs. suits, and action-figure envy ...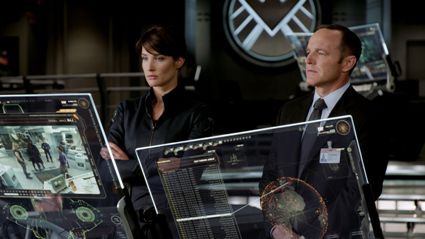 As S.H.I.E.L.D. agents Coulson and Hill, actors Clark Gregg and Cobie Smulders add a welcome touch of working-class humanity to the heroics going on around them in "The Avengers." Gregg's been part of the Marvel Comics films going back to "Iron Man," although his previous resume includes work with talents like Aaron Sorkin and David Mamet; Smulders, best-known for the small-screen "How I Met Your Mother," joins the Marvel films for the first time with this film. We spoke with the two in L.A. about the human touch, costumes and gender roles, having Samuel L. Jackson as an on-screen boss and action-figure envy …
MSN Movies: How nice is it to be able to give the human touch to all this mythic special effects stuff going on?
Clark Gregg: It's pretty darn nice, I've got to say. It's been one kind of amazing ultimate surprise after another from the first "Iron Man" -- kind of showing up being a guy just pestering Tony Stark. Then gradually revealing that the "Strategic Homeland Intervention Enforcement Logistics Division is S.H.I.E.L.D. And kind of finding out on the one hand this guy knows all kinds of secrets and is involved in stuff you can't even imagine, and at the same time, in this movie we get to learn he grew up loving the comics and is a huge fan of Captain America, and can barely contain his schoolgirl giggles when Captain America is there …
You, Ms. Smulders have to wear this sort of action leotard (as Maria Hill), and Mr. Coulson just wears a really great suit. Do we need to talk to S.H.I.E.L.D. about gender roles and the workplace dress code?
Gregg: Well, they put me in the unitard with codpiece, but it wasn't good for anyone involved so they quickly put me back in the suit ...
Cobie Smulders: ... And they also felt that Coulson is on the field a lot, and he'll draw too much attention if he goes out in his leotard. Those who stay on the Helicarrier can put the uniform on. Maybe if I was in his role I'd get a female power suit, or something like that.
You're working with these actors, who in many cases have inhabited these roles in other films, in two or three films. Do you get action-figure envy? Do you get soda-can envy? Where's the Maria Hill Dr. Pepper can? Where's the Agent Coulson action figure?
Gregg: No, we're just happy to be part of the franchise … but an action figure wouldn't make me upset.
Smulders: You know,  he does deserve one. He's been in the last four films, and really has worked hard. I am a newbie.
Gregg: I own a lot of action figures. I don't think it would be too much just to have one. 
You feel like an action figure of yourself would really help your inner monologue? You could just say "Well, little Clark Gregg, this is how I'm feeling ..."
Gregg: That's a great idea. I never thought about using it is as a sock puppet. I'm too close to being schizophrenic as it is. I don't need another me. One of me in a real one is plenty.
Smulders: I disagree.
In this film we're familiar with Agent Coulson being a part of S.H.I.E.L.D, but you're playing a new character. Even on an acting level did you ask Mr. Gregg for any advice on "How do I come on board this? How do I get engaged in it as an actress and keep my head up around all of this stuff?"
Smulders: I know what you're saying …
Gregg: No. What, is she crazy? No way. She was boss. The real difficulty is she had to jump onto a moving freight train of muscle-bound super heroes, and do so in a way where I quickly wanted to ask her, "I don't know how you're doing this, but can you tell me how to be a better field agent?"
Smulders: Well, I mean, it was like the energy of like, "If I feel uncomfortable in a situation, I'm just going to pretend like I'm not … I know what I'm doing at all times."
Samuel L. Jackson, who plays your boss, Nick Fury, the head of shield: Completely intimidating or totally and terrifyingly intimidating?
Gregg: It depends if it's before or after they said "Action." Before "Action," really nice.
Smulders: And before or after lunch.
Gregg: That's true. After they say "Action," if he's got that glare going with the one eye, you want to make sure you're standing on the side with the eye patch so you don't get taken out.
("The Avengers" is currently playing.)
Are you sure you want to delete this comment?