Uma Does W
Interview with Uma Thurman in newest W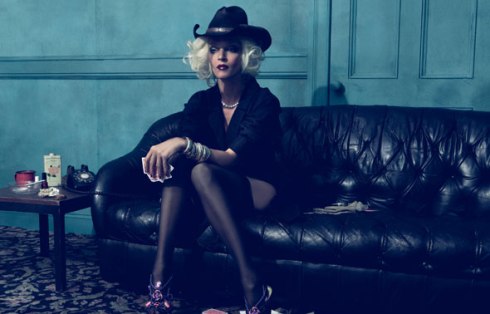 The newest edition of W Magazine writes a lovely piece on their cover girl, actress Uma Thurman, complete with gorgeous photographs.
Long underrated, Miss Thurman is not surprisingly, smart, philosophical and getting ready to line up for Fall. That sounds nice. When you live in New York, you remember what Autumn feels like, Los Angeles, not so much.
Here's one part of the interview:
"Up close, the nearly six-foot Thurman, 39, is somewhat unearthly in appearance. She's string-bean lean, and her starkly pale, makeup-free skin is striking against her ice blue eyes. Settling into one of the chairs at her long dining table, she pours a bottle of raspberry soda into two glasses and explains that she's just back from two weeks' vacation in India with Busson. 'I was in Rishikesh, which is where the Ganges comes down from the Himalayas,' she says. "It was beautiful, and because hardly anyone travels there during the monsoon season, it was mostly Indians."
"A few weeks earlier she spent some time in Africa, where she was doing research for 'Girl Soldier,' a film she's planning to produce and star in, and just before that, she was in Vancouver, filming her part as Medusa in 'Percy Jackson & the Olympians: The Lightning Thief,' an action-adventure movie based on the best-selling children's books. 'It was a summer of interesting travel, but I'm very, very happy to be home. August always feels like New Year's to me, a time when I feel a turning—a tightening,' she says, pressing her long fingers together for emphasis. 'Like I have to get everything lined up for the fall.'"
Read the entire piece here.