'Ugly' Remains Ugly, Knocked For A 'Loop'
This week's movie openings are a mixed bag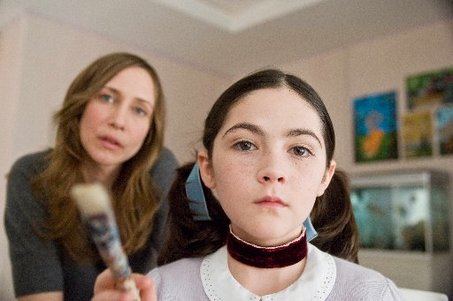 Reviews for "The Ugly Truth" are well, ugly. Really ugly. Take your pick, most critics could barely stand the picture.
I could compare and contrast the levels of dislike, but I'll just stick with the Miami Herald's Rene Rodriguez's take, my favorite:
"'The Ugly Truth' is insulting to women, men and even goldfish."
Meanwhile, "Orphan" is getting mixed notices, a nice rave from Roger Ebert and these encouraging words from The San Francisco Chronicle's Mike LaSalle: "A two hour nervous breakdown." That's a good thing to me, when it comes to horror movies anyway.
It probably makes no difference how critics feel about "G Force" -- the live action/animated/3-D movie about guinea pigs. It's about cute guinea pigs. Who reads reviews about movies pertaining to cute guinea pigs? (I guess I just did, but it's my job this morning). Also, it's tracking well so audiences will line up for...guinea pigs. I would like more movies about chipmunks, and not the Alvin, Simon, Theodore variety. I want real, live, nut loving chipmunks. Just look at this creature.
Alright. I've stopped google searching images of chipmunks (for now). In smaller release, Armando Iannucci's British political satire "In the Loop" is getting extremely positive reviews, with some reviewer's claiming it the smartest, funniest movie of the year. As the Village Voice's Melissa Anderson wrote, " Not to detract from the pleasure of watching the consistently excellent actors, who enhance the dialogue's bite with their body language, but the script of In the Loop is so rich that it could work as a radio play."
Read more reviews at MetaCritic.