'Couples' Are One
'Couples Retreat' takes the zombies at the weekend box office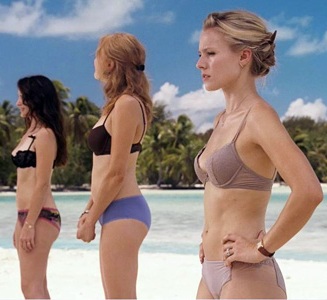 "Zombieland" went down quite a few notches this weekend to make way for feuding couples (which is often a lot more frightening than "Zombies" -- check "Who's Afraid of Virginia Woolf" and you'll never be scared during a Romero film ever again...).
Not that "Couple's Retreat" is anywhere near Edward Albee level dysfunction (but wouldn't it be great if it was? That's the studio relationship movie Jody Hill would direct, god bless him if he could), but perhaps Americans find comfort in movie stars hashing it out in Bora Bora. I would rather watch George and Martha crawling down a beach, sloppy drunk, calling George Segal their "houseboy" but alas, that's not gonna happen. As Louise said to Thelma, "We don't' live in that kind of world anymore, Thelma!"
Well, maybe we do on cable TV. Why is cable TV ballsier when it comes to relationship comedy  -- "Californication," "Hung," "Mad Men," even "Dexter"?
With these thoughts, here's the top five movies over the weekend:
1. "Couples Retreat"

2. "Zombieland" 

3. "Cloudy with a Chance of Meatballs"

4. "Toy Story / Toy Story 2 (3D)"

5. "Paranormal Activity"