John, Paul, George, Ringo and 'Twilight'!
'Twilight: New Moon' Fans are...girls!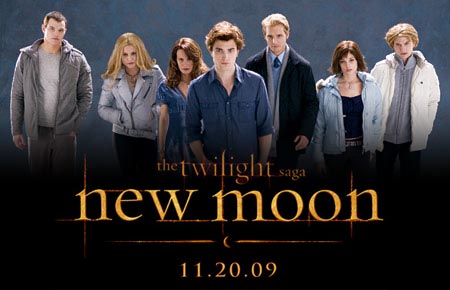 Chud's Devin Faraci did his loyal Comic-Con blogging duty by posting this picture from the "Twilight" panel line last night. People were camped out, literally, with tents, sleeping bags and probably propane stoves just to gain entrance into today's "Twilight: New Moon" panel in an auditorium that will fit 6,000 people.
Here's what Devin wrote:
"And the Comic Con nerds couldn't be angrier about it. It's funny to see 'Your fanbase is lamer than my fanbase' breaking out here, at the mecca for all geeks. The animosity is deep seeded; originally 'Twilight' was scheduled for after the 'Avatar' panel, where five minutes of 3D footage will be screened. It became obvious that Hall H would be filled with girls (gasp!) who would be there from the moment the room opened, leaving many boy geeks unable to see James Cameron's presentation. Comic Con quickly switched things around, and not 'Twilight' goes before 'Avatar.' The theory: these girls (yuck) will clear out of Hall H after they see RPatz and friends."
Ohmahgoodness. If I was there, like last year, and I witnessed these children (ahem, adult children) as real live people, I would feel a pang of guilt making fun of them. But with proper distance and enough episodes of "Most Evil," (I'm a level 14) all I can think is, boys! Face your inner girl. Because that's the problem here. These 'Avatar' dorks can't handle the reality that, you know, girls were the original "fan boys." It wasn't a bunch of dudes in X-large Yoda tee-shirts screaming for Frank Sinatra, Elvis and the Beatles. No sir! It was guurrls.  And, as my rational mother recalls,  "it was highly embarrasing." Deal with it fellas.