Revival House: 'Being There'
I like to watch...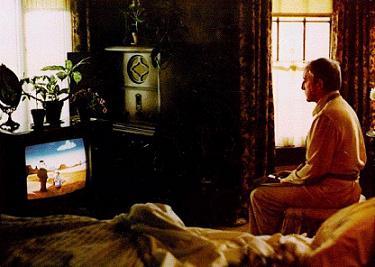 After attending the Hal Ashby tribute at the Academy a few months back  -- with Cameron Crowe, John Voight, Judd Apatow, Seth Rogen, Diablo Cody and...Cat Stevens/Yusuf Islam (who sang songs from the movie -- a dream come true for me), I was awash in Ashby obsession.
Not only did I watch Cat Stevens sing "Don't Be Shy,"  but was graced with the surprise entrance of Harold, Bud Cort, walking on stage with a sunflower and proclaiming his genuine love for Ashby, the picture and Ruth Gordon. It was a splendid night, made all the more surreal as it was the very same day Michael Jackson and Farrah Fawcet died.
I furthered my Ashby amour by attending the superior Ashby cut of "Lookin' to Get Out," also with Jon Voight,  Curtis Hanson, Ann-Margret and Burt Young in person, along with Ashby's wonderful, intelligent and touching daughter, Leigh McManus (whom I fell in love with). She was accompanied by Nick Dawson, who wrote the terrific book "Being Hal Ashby" (buy it!) and who helped get the "Lookin' to Get Out" Ashby cut on DVD. Thank you Dawson. 
So I was happy to hear that the producer of David Mamet's newest project, an adaption of "The Diary of Anne Frank" is Andrew Braunsberg, who also produced one of my favorite Ashby pictures, "Being There." With that, here's some love for Peter Sellers and "Being There." A movie that, if you haven't seen, you must.
This was one of my favorite movies as a kid, all the more memorable for being one of the first pictures I saw on my birthday. "I like to watch" says Chance the Gardener, as brilliantly played by Peter Sellers in director Ashby's magnificent 1979 "Being There." Adapted by Jerzy Kosinski from his satirical novel, the film tells the story of a gardener whose only knowledge of the world comes through gardening and television. When the old man he works for passes on, Chance is left to fend for himself in an outside world that's so foreign to him that he thinks he can change it with a TV remote control. That concept seems even more relevant today.
Luckily (I suppose) he runs into a wealthy Washington insider who takes his simple gardening metaphors as deeply felt life musings, and Chance (now named Chauncey Gardner) is eventually giving advice to the president of the United States. It's just so beautifully filmed, hilarious and poignant and superbly acted by Sellers, who imbues naïve Chauncey with an untapped sadness and an imbecilic darkness, that as a kid, seemed on the edge of bursting. But he wasn't. He was never going to change. And as an adult, it makes the movie all the more powerful and of course, darker still -- especially with our often disconnected, technological ways of communicating with one another. We all love to watch. And to watch ourselves.
Below is one of my favorite moments. If you're offended by language, be warned (but mellow out kitty cats). And so you know (not that you need to), I had the "Did Raphael send you?" scene memorized as a kid and tortured my mother with it endlessly. "It's from a movie!" I would say. But oh how I loved to quote that moment...and oh how she hated me for it.