Hare Raising
Steven Spielberg to re-make classic 'Harvey'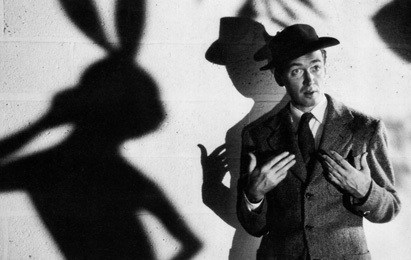 According to this poll, did you know that over 50 percent of Republicans think Obama isn't an American citizen? Did you also know that the same 50 percent think that old lady actually did attempt to dry her poodle in the microwave oven?
Did you also know there was once a talking rabbit no one could see except for Jimmy Stewart and that bunny would follow Stewart around and now Steven Spielberg is doing a movie about it? No, that is actually true. Spielberg is re-making the classic 1950 movie "Harvey" in addition to possibly destroying the modern classic "Oldboy" with Will Smith in the lead. Frankly, I'd rather see Will Smith in "Harvey," which is a potentially more interesting re-make than butchering Park Chan-wook (and if you haven't yet, go see "Thirst" -- it's brilliant) but I'm thinking Speilberg's going to grab Tom Hanks (I'm hoping for George Clooney).
Anyway, announcing the news with much excitement are producers Tom Rothman and Stacey Snider, who frankly, go a bit overboard. From Variety:
"'Don Gregory entrusted us with these precious rights, Beth Gabler and Carla Hacken developed an exceptional screenplay and Jim and I had the easy part: Deciding to go first, before anyone else, to a filmmaker who combines the mastery of craft, tone, wit and insight that `Harvey' embodies,' Rothman said. 'Steven Spielberg is film's greatest humanist. And we feel blessed as Elwood himself to be collaborating with him, Stacey, and everyone at DreamWorks.
"Said Snider: 'This is a story relevant for all times, perhaps more so than ever before.'"
Why is "Harvey" even more relevant today? Are we more delusional? Wait a second, what am I talking about. She's right. Of course we are. Go to Facebook, turn on VH1 and re-read the first sentence of this post. "Harvey" is as relevant now as "Network" and "The King of Comedy." Seriously. I only wish I had a talking rabbit to make me feel better about this. (By the way Happy Birthday Mr. President -- Obama turned 48 today. And yes, he was born in the United States...again, talking rabbits nothing.).