James Franco Gives Good Range
From a 'Planet of the Apes' prequel to 'General Hospital'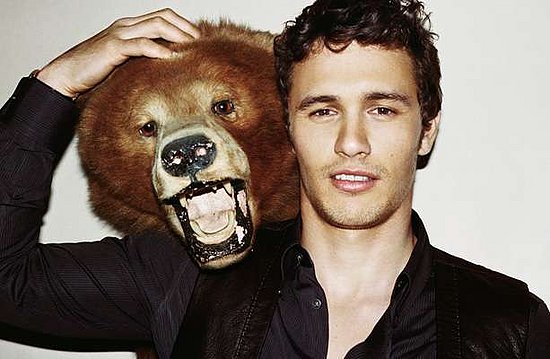 I've made no secret about my admiration for James Franco -- the newest actor of the Johnny Depp, Nicolas Cage mold -- a fearless talent adept at drama, comedy, comic book movie franchises and soap operas.
Yes, soap operas. If you recall last year, he did a recurring stint on "General Hospital," playing a bad boy artist to the dismay of his fans. What high profile movie actor had ever stepped into soap work, just for the hell of it? Other than Joan Crawford filling in for daughter Christina Crawford, I can't think of any. And you know that was some demented mother/daughter one-up-man-ship with Joan.
For Franco, it was reportedly some kind of performance art, but I'm sure he had fun doing it too. I mean, why not? I love that he makes no elite distinction about the work. Next he'll become the newest pitchman for Orange Glo, or the face of Taco Bell. Who would think he was slumming? At this point, no one.
So, "Planet of the Apes"? No problem. According to Variety, Franco has signed on to star in the "Planet of the Apes" prequel, "Rise of the Apes."
From
MTV News
:
"Franco reportedly beat out a 'number of Hollywood's young elite actors for the coveted role' in the prequel, which is said to be an origin story set in present-day San Francisco."
"According to the industry publication, the plot centers on the aftermath of man's experiments with genetic engineering that lead to the development of intelligence in apes and the onset of a war for supremacy. Franco is set to play a young, driven scientist who becomes a crucial figure in that war. The production is scheduled to begin filming July 5 and will be released June 24, 2011."
But wait. There's more! He's reportedly got a new role in the works, playing, of all things, an actor.
From
Deadline Hollywood
:
"He is attached to play the title role in the Jeff Bushell-scripted comedy Ricky Stinicky. Summit Entertainment is negotiating to finance the movie. The premise: a couple of pals who invented a fake friend they employ when they want to get away from their spouses get called on their BS when the wives insist on meeting Ricky Stinicky at a party they are throwing.  The guys hire an actor (Franco) to play Stinicky. Michael De Luca is producing with John Jacobs. Bushell wrote Beverly Hills Chihuahua. WME is brokering the deal."
"The Summit deal comes just after Franco committed to spend the summer emoting in the ABC soap General Hospital, reprising as the bad boy performance artist, Franco."
There's more movies. Danny Boyle's "127 Hours," "Howl" with Franco playing Allen Ginsberg,  "Your Highness," the fantasy pot comedy with "Pineapple Express" director David Gordon Green. He's also set to play a lover boy in "Eat Pray Love," in which Franco will romance Julia Roberts.
And then, as stated, he's also back to Port Charles, steaming up "General Hospital" with more of his troubled character's arty, nutty shenanigans.
So he's been, in a grand understatement, very, very busy. Good for him. Is reality television next?