Final Girl On Franklin
And the most annoying character in horror is...
One of my favorite blogs in the whole wide world (sorry, the internet has the effect to make one write like a 7th grader on a pee-chee -- do people still carry pee chee's?)....anyway, one of the best horror blogs around has made an observation that's been needed for a few decades now.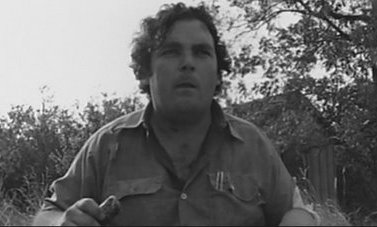 The fantastic Final Girl posted a poll, of sorts, regarding the most annoying secondary character in horror films, ever. And I have to completely, totally agree with her on this one. Perhaps it's un P.C. to say this, particuarly regarding this character's challenges in life, but he is so annoying, that you wish the movie was more violent (which makes the film even more genius). My God -- he's so damn annoying I almost didn't want to post a picture of him, but in case you forgot about the whining, creepy, kill-joy, a guy who makes you feel guilty for finding him so annoying,  which then makes him even more annoying, I felt it was necessary.
Stacie Ponder on...ugh...Franklin:
"In the interests of synergy, I was about to create a poll in order to determine the most annoying secondary character in horror. I began listing out the jerks who are so jerky you just sit there hoping they'll die soon: you know, guys like Shelly from 'Friday the 13th Part 3,' the rednecks from 'Friday the 13th Part 5,' Steel and Rickles from 'Day of the Dead'...but then I ran into a problem.
"A sweaty, sausage-chewing, spit-spitting, wheelchair-bound, pee pee in a can problem...a problem named Franklin. Yes, Frankin from 'The Texas Chain Saw Massacre.' More specifically, the problem is that no one in the history of horror or, indeed, ever is more annoying than Franklin. It's just not possible, and I mean that in a most scientific sense. I've done the math, people, and he's the annoyingestest. EST. Evarrrr."

Read more here.