'Funny' Is The Tops
'Funny People' hits number one, 'Harry Potter' upsets the pigs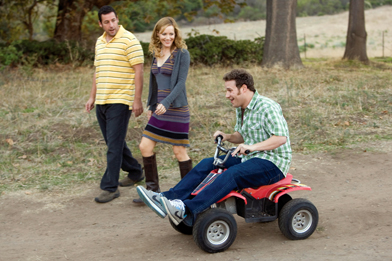 Of course "Funny People" came in at number one over the weekend. Did you actually think those silly guinea pigs had that much power? Even if they threw Harry Potter off his game last week?
Harry Potter did remain firm however, sticking in at number two, while audiences insisted on watching a movie even Katherine Heigl hates (wait, she seems to hate every movie or television show she's involved with. Do give her a break however -- one has to develop a thick skin after suffering a debut as eternally creepy as "My Father the Hero." Watch that movie and you can understand why she's a little jaded.)
Anyway, audiences took in "The Ugly Truth" when they really should have seen "Orphan" (which fell to number six).
Speaking of "Orphan" -- do not believe the negative reviews. "Orphan" is a lot more fun and ballsy than any horror picture I've seen this year. It's no "Joshua" (another complex bad seed movie, also starring Vera Farmiga) and it's not altogether scary, but it's got a lot of creepy/hilarious/subversive moments that stick with you. And what's more fun than watching little girls light things on fire and brandishing firearms? I bet Katherine Heigl wishes something like "Orphan" had been her young debut. Light Gerard Depardieu on fire...
With that, here's the top five movies over the weekend:
1. "Funny People" 
2. "Harry Potter and the Half-Blood Prince" 
3. "G-Force" 
4. "The Ugly Truth" 
5. "Aliens in the Attic"