'Bruno' Number One, For Now
'Bruno' tops Box Office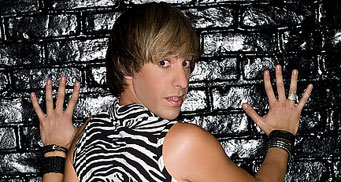 Has it come to this Hollywood? Our little Sandy Bullock -- she of "Speed," "While You Were Sleeping" and "Miss Congeniality" uber adorability. Our bright shining star of plucky, likable, cute-pie-ness with that amazing and alll so important ability to never age (seriously, Miss Bullock does not age) is brought down by a faux gay Austrian fashionista? As the kids would say whilst texting during algebra one exams: WTF?
Alright, so the kids would never say that about Sandy vs. Bruno. And yes, OK, her movie, "The Proposal" did open nearly a month ago. And really, did you see it? Wait. You did. Because damn if that film isn't doing well. But even Sandy Bullock can't stop the power of Bruno and his aggressive hot pants as Sacha Baron Cohen's (and director Larry Charles) "Bruno" hit number one over the weekend.
According to the Hollywood Reporter:
"The latest R-rated send-up from Sacha Baron Cohen opened on top of the domestic boxoffice, with its estimated $30.4 million in weekend booty nailing the consensus prerelease forecast. It handily beat the debut of the comedy provocateur's 'Borat,' which unspooled with $26.5 million in November 2006 en route to a $129 million domestic run.
And yet...
"But the big 'Bruno' bow was unusually front-loaded, with almost half its weekend boxoffice rung up Friday. Saturday's $8.8 million tally represented a 39% decline from first-day grosses, and 'Bruno' will be closely watched for market stamina during coming frames."
Stamina and frames? OK. Basically, the movie is getting mixed reviews and weird word of mouth. Yes, weird. As my friend Brian said, "It was often hilarious and I admire the hell out of him but...I felt like I needed to take a long shower after, which isn't a bad thing but..." (Brian, I think that's a bad thing.). It's going to drop down a few notches next week.  So when all is said and done, Sandy will taste victory and the center will hold. The falcon will hear the falconer.  Oh god I hope not.
Here's the top five movies over the weekend:
1. "Bruno" 
2. "Ice Age: Dawn of the Dinosaurs"
3. "Transformers: Revenge of the Fallen"
4. "Public Enemies"
5. "The Proposal"