Step Away From The 'Twilight' Fan
Seriously scary...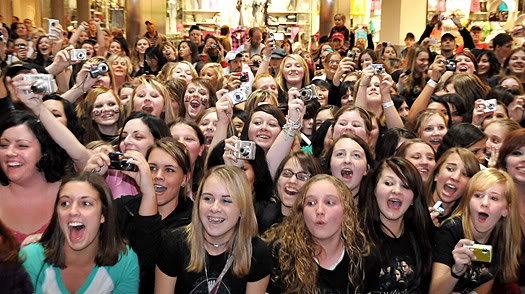 Coming from a person who has almost smashed her car into a herd of screaming, sobbing teenage girls running like crazy lunatics towards the vicinity of Robert Pattinson, take it from me -- the Twi-hards are scary.
Like, take ten slow steps backwards, breath with your diaphragm and focus your eyes on the hyperventilating 14-year-old in front of you in case she turns rabid scary.
I mean:
"Exactly 12 months ago, Kristen Stewart and Robert Pattinson were surprised to be greeted by throngs of eager fans of the novel 'Twilight' at the premiere of the big-screen adaptation.
What a difference a year makes.
"The actors unveiled the sequel — 'The Twilight Saga: New Moon' — at the same location Monday night in the Westwood neighborhood of Los Angeles. But this time they knew what was coming.
"'I'm not as scared as I was last year,' said Stewart, despite a brief touch-and-go moment as she signed autographs. 'At some point, the security guy said, 'This is very unsafe.' And I was like, 'Uh.' Other than that, everything was cool.'
"Pattinson, who plays vampire Edward Cullen in this latest adaptation of author Stephenie Meyer's popular series, said this year's crowd of thousands of screaming fans was larger than the 2008 turnout.
"'And it seems different to me because we have done this world tour in the last week and it has just been unbelievable in every single city,' he said. 'It is about 10 times bigger than any other city in the world.'
"Some 'twi-hards' —— as they call themselves —— arrived as early as Thursday afternoon to secure a place in line for tickets allowing them to watch the stars' arrivals on the red carpet. The 800 available tickets were all distributed by Monday morning, but the line still stretched for blocks well after lunchtime."
Read it all here. Oh my god.