Talking To Larry David
With Woody Allen's 'Whatever Works' on DVD today, a revisited interview with David...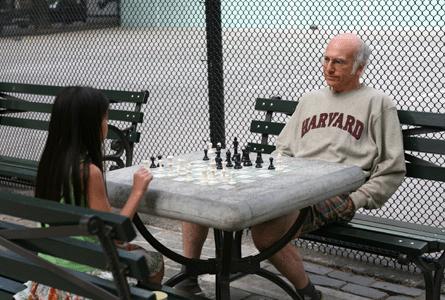 Larry David is intimidating. But he doesn't really want to be. Or does he? That's what makes meeting the man in person rather unnerving. Is he, in fact, much like his character, named Larry David, on his groundbreaking show "Curb Your Enthusiasm," or is he a lovable ray of sunshine turning the world on with his smile? Actually, he's a bit of both. He's sweet (he genuinely felt bad when I said I had more questions to ask after we ran out of time), but razor-sharp, to the point, and then, inscrutable. In short: He's perfect for a Woody Allen movie.
And in the director's picture, "Whatever Works" (out today on DVD) David is the ultimate Allen surrogate. Without aping the filmmaker's mannerisms (like so many actors do), he suits himself expertly in the Allen universe. David plays the curmudgeon (and that's putting it lightly) Boris Yellnikoff, a failed physicist who pretty much believes himself to be the smartest man in the world, living amid tadpoles. Enter tadpole No. 1, a teenage, Southern drifter (Evan Rachel Wood) whom he inexplicably allows to crash in his apartment and who, even with her clichés, right-wing background and lack of knowledge, he grows to care about. And then ... her mother (Patricia Clarkson) enters the picture, and then ... the father (Ed Begley Jr.), which turn Boris' intellectual New York world topsy-turvy. It's incredibly broad comedy brimming with intellectual, existential musings, and even when feeling a bit like a retread (dashes of "Annie Hall" and "Manhattan" are everywhere), it remains funny. And that's largely due to David. Whenever he opens his mouth, the movie is funny.
He's funny in person as well. And likable. And yes, just a little scary. Here's our conversation reflecting all of these elements:
Hitlist: I was going to film you, but I didn't think you'd like it ...
David: It's better that you didn't.
Hitlist: I was going to ask you. I wasn't just going to turn it on without your knowledge, secretly.
David: Oh! I would have said no. But then, you never know, sometimes I surprise myself.
Hitlist: James Toback didn't say no.
David: He didn't? How shocking.
Hitlist: I'm a little nervous because you're a bit intimidating. Don Rickles is one of my heroes, and ...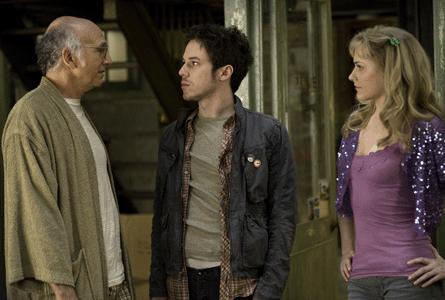 David: Is that right? Me, too! I love Don Rickles.
Hitlist: You're the nicer version, but you're also mean ... on your show, you use meaner humor. By the way, don't be mean to me.
David: I won't be mean to you. I'm very nice. People see me; they think I'm mean. They're wary of me, but I'm not mean.
Hitlist: Don Rickles is nice in person also.
David: He is.
Hitlist: So I bring up Rickles because if he was the star of your show, he would purposely start everything. Whereas it seems like things just happen to you.
David: But, then, I start things inadvertently. Things bother me; I point them out. I'll say ... what'd you do that for?
Hitlist: So I'm going to ask you the obvious question -- working with Woody Allen. Now, you worked with him two other times, in "Radio Days" and "New York Stories." But this is a lead role, and you're essentially playing a Woody Allen surrogate, which I thought was perfect because you weren't trying to imitate him.
David: Well, thank you. That's one of the pitfalls, I guess. It was nothing I really even thought about because I knew I wasn't going to do that. I didn't consider that for a second. He doesn't want someone to play him. [Laughs]. I mean, the concept is so crazy. But I guess it's easy to fall into that trap.
Hitlist: Yes, even women do it. They take on his characteristics in movies.
David: Yeah, I know. Because you can hear him in the lines. That wasn't really a concern of mine.
Hitlist: But initially you took pause when offered the part, correct?
David: Always. I always take pause, no matter what it is.
Hitlist: Because ...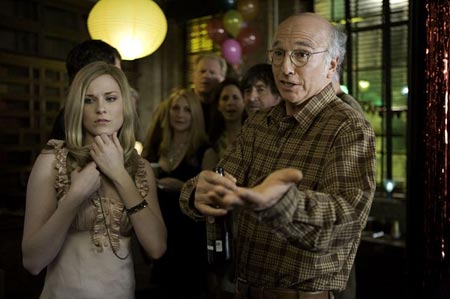 David: Well, I don't like challenges very much. I don't like to challenge myself. And I saw this definitely as a challenge. There's all this material. I improvise most of the material on the show ["Curb Your Enthusiasm"], and I'm not used to playing somebody else, or doing somebody else's words. I'm used to doing my own stuff, so I didn't know if I could say somebody else's words and make them sound like mine. So I called him up and then talked to him, and he told me, no, no, don't worry, you're gonna be fine.
Hitlist: Allen wrote this in 1970 with Zero Mostel in mind for the lead. And you can feel some of the old '70s Woody Allen here: the addressing of the camera like in "Annie Hall," some of the themes and lines, etc. Now, Zero Mostel never played the part, so I can't really ask you how you felt filling his shoes but ... wait. Why didn't he play the part?
David: Didn't he die?
Hitlist: I don't think he had died yet. [Laughs] That was in the later '70s [Zero Mostel, in fact, died in 1977.].
David: Then why didn't he do it?
Hitlist: I don't know ... I should know this. Anyway ... the film also fits somewhat into Allen's obsession with Ingmar Bergman, because it reminded me a bit of "Wild Strawberries."
David: This movie?
Hitlist: Well, because it's about an older man who's reflecting on his life and his past wife and finding newer relationships and searching for something. Have you seen "Wild Strawberries?"
David: I don't think I have. No. I've heard of it. [Declaratively] I'm gonna check it out. How bad could it be? Well, if you like Bergman. I like some of it. I can't say I like all of it.
Hitlist: OK. I'm sure you've been asked this a million times as well, but I'm curious: Do you have a favorite Woody Allen movie?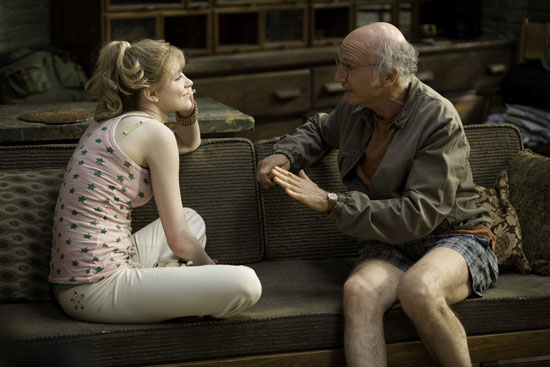 David: You know, when I was in the Army, I was miserable, crying myself to bed at night. And then "Take the Money and Run" was playing, and I saw it in the Army on the base. I watched it with the soldiers. So, in that sense, it made quite an impression on me.
Hitlist: On your show, you play an incredibly well-off man who has all these snowballing encounters. In "Whatever Works," you play a successful man who goes back to living a modest existence in New York City. You lived in New York City, modestly at one point -- I'm assuming you didn't need to get all method for that aspect of the performance.
David: No. I didn't go around talking to Jews, as was suggested downstairs, in order to get into the role. Oh god ... that was so funny. *[He's referring to a particularly off but hilarious question asked from a Japanese journalist during the press conference.]
Hitlist: What were the harder scenes to do? I especially like how you handled a more dramatic scene: when Evan Rachel Wood breaks up with you. You're being somewhat cruel, but then, you're being very understanding. It's oddly touching.
David: I was being understanding and mean at the same time.
Hitlist: Yes. How did you handle the dramatic scenes? Was it something you were worried about?
David: I was a little concerned about it. And I told him early on about a couple of the dramatic scenes I was concerned about. And, again, he seemed to think I would be able to do it. And you know, I have been broken up with many times. [Laughs] It wasn't a foreign experience for me, for someone to tell me they didn't want to see me anymore. So it wasn't the first time I'd heard those words in my life. It wasn't really a shock. And I think in the context of the relationship in the movie, he wasn't that shocked either.
Hitlist: How much of the dialogue did you believe? Allen ponders so many darker aspects of life: its potential meaninglessness, the panic it induces, entropy, etc. How much do you relate to or believe?
David: I can relate to most of it. [Pauses for a moment] Yeah. I can.