'Cloudy' Clear Weather
'Cloudy With a Chance of Meatballs' receives raves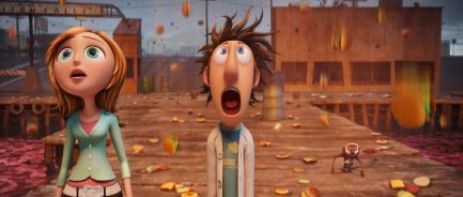 "Cloudy With a Chance of Meatballs" is not only a beloved children's book, but it appears to becoming a beloved children's movie as well. And adults, at least film critic adults, love it too.
Adapted from the book by Ron and Judi Barrett, "Cloudy With a Chance of Meatballs" follows an inventor Flint Lockwood (voice of Bill Hader) and a smart weathergirl Sam Sparks (voice of Anna Faris) as they try to understand why rain has ceased in their tiny town and food is falling instead. Delicious or...gross?
Things get worse when a well-known meany Brent (voice of Adam Samberg) resorts to school-age tactics by bullying Flint and the town's Mayor (voice of Bruce Campbell) plots against Flint -- to nab his latest invention (something designed to improve lives) -- for himself and himself only. Yes. A lot going on. And food falls from the sky. And Mr. T. appears, or rather, we hear Mr. T in the voice of a cop and James Caan comes on board as Flint's father.
I have never read the book, but anyone I know who did and loved it, adores the film. As for the movie working as a movie, here's an especially nice review via Cinematical:
"Most of all, though, 'Cloudy' is just freaking funny. My favorite scene in the film is a slightly disturbing, borderline-mean "handheld" point-of-view snowball fight where a newly-liberated Flint decimates children and adults alike with scoops of mint-chocolate chip ice cream, but there are countless moments where Lord and Miller find the right way to make a joke less obvious and more effective. Not unlike the humor of folks like Seth Rogen and the other guys in Judd Apatow's comedic brain trust, much of the movie's best material comes from a place of snarkiness weighted with sincerity, and Lord and Miller (who spent part of their careers working on How I Met Your Mother) manage to find the right balance between momentary punch lines and delayed payoffs in order to create something that works for kids and adults, without much disparity in their relative comprehension or appreciation for what's happening. (Plus, they put a monkey in it, and they're always funny.)
"Ultimately, 'Cloudy With the Chance of Meatballs' isn't quite an 'event movie' like the Bruckheimer epics from which it takes inspiration, or possibly even the Pixar movies that it competes with. But there's something to be said for a movie that manages to tell you an effective, straightforward story, still shows you a whole bunch of things that you've never seen before, and somehow makes the combination of the two add up to something emotionally meaningful. In fact, this film marks the first time in recent memory I would associate the word cartoonish with a piece of entertainment and not mean it as a criticism. Other filmmakers will almost certainly create worlds more dense, tactile, and faithfully authentic, but 'Cloudy With a Chance of Meatballs' works so wonderfully because Miller and Lord understand that it doesn't matter how realistic something is, as long as it's believable."
Read the entire review here. And now I'm hungry.