Revival House: 'The Night of the Hunter'
With 'The Stepfather' remake opening Friday, here's the scariest stepfather of all time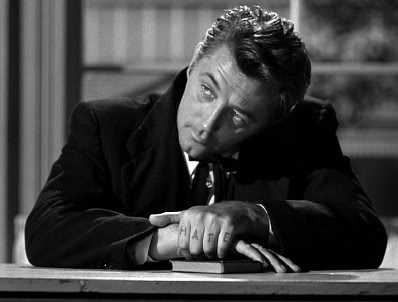 A re-do of "The Stepfather"? It only led me to my archive of demented dads, a movie (and real life) character I'm fascinated by. From the anti-Atticus Finch figures of "Bigger than Life" to "Lord Love a Duck" to "Paper Moon," varied degrees of problematic parenting are always interesting. 
But for those special psycho stepfathers, however, no one should ever forget the biggest, baddest, most brilliantly baneful stepdad of all time: Robert Mitchum's Harry Powell in Charles Laughton's genius, "The Night of the Hunter."
A man's man and a hep cat who projected a natural-born charisma entirely his own, Robert Mitchum was, and still is an American original. There is no actor or man quite like Robert Mitchum. Brimming with understated talent (the kind that's always underrated), the actor could run the spectrum from gorgeous leading man ("Heaven Knows, Mr. Allison") to light comedian ("What a Way to Go!") to war hero ("The Story of G.I. Joe") to Western existentialist ("Pursued") to flawed noir antihero ("Out of the Past," "Angel Face," "Where Danger Lives") to aged gumshoe ("Farewell My Lovely") to sexy psycho ("Cape Fear") to hillbilly moonshiner ("Thunder Road") with nary a trace of effort.
Though he was quoted as saying he sleepwalked through many of his roles (and that heavy-lidded, laconic demeanor was a large part of his barrel-chested appeal), he did work at some (or many) of his big-screen characters. Nowhere is this more evident than in one of the actor's greatest and most terrifying roles -- as the demented preacher and scariest stepfather who ever lived, Harry Powell in Charles Laughton's masterpiece, "The Night of the Hunter."
Read my entire piece at my site, Sunset Gun.