Hot Docs
TIFF and the documentary situation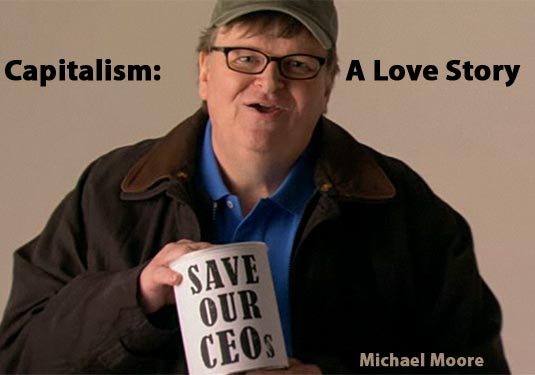 MSN's James Rochhi talks docs from the Toronto International Film Festival with some hits and misses. Michael Moore? Miss. White Stripes. Hit.
Here's how it went down:
As the Toronto International Film Festival hits the three-quarters mark, with screenings, press conferences and events going on until Sept. 19, it's already been a busy, bumper year at the biggest film festival in North America. The sales climate has been cloudy with occasional outbreaks of optimism (more later), and there have been several films that, whether making their world premiere or their North American debut after acclaim at Cannes, have made truly strong impressions on the crowds of moviegoers in Canada's largest city. The size and the sprawl of the Toronto International Film Festival are hard to get a handle on. Each day sees multiple screenings taking place at more than 32 venues, beginning at 8:30 a.m. and going deep into the night as the raucous Midnight Madness screenings put the festival to bed late. So consider this guide to the great, the good and the not-so-good an overview, at best.
Documentary Delights and Disasters
Toronto's "Real to Reel" program includes some of the most exciting documentary programming imaginable. And this year the films ran the gamut from politics to pop music. Michael Moore's latest, "Capitalism: A Love Story," wound up being one of the hottest tickets in town when it debuted Sunday night before a sold-out crowd (Canadians love Moore). It's too bad that Moore's latest is an uncharacteristically weak work, leaning on his familiar clichés and trying to wring laughs out of unfunny jokes that dilute the righteous fury of his argument against our current financial mess. There's no doubting Moore is passionate about haves-vs.-have-nots based on "Capitalism: A Love Story." But there's also no doubting that watching Moore try to sneak past security guards hasn't gotten funnier since he first broke that joke out in 1989's "Roger & Me."
Far more engaging was the plain-spoken sincerity of "How to Fold a Flag," the latest documentary from the "Gunner Palace" team of Petra Epperlein and Michael Tucker. Following four separate Iraq veterans as they deal with being home, through coping techniques ranging from running for Congress to engaging in competitive mustache-grooming and goofing off, "How to Fold a Flag" is made with a real restraint and a true heart, achieving something direct, dignified and deeply affecting.
Another doc standout at Toronto this year (and not just because of local boosterism) was the concert/tour documentary "The White Stripes Under Great White Northern Lights," following the two-person rock band as they play every province and territory in Canada. The film is self-consciously retro -- I jokingly suggested calling it "Don't Look Forward" -- as it follows Jack and Meg White on tour. But it crackles and throbs with rock 'n' roll power in the live performances and jumps with goofy good humor as the White Stripes play some of Canada's smallest cities close to the Arctic Circle. Building up to the band's 10th anniversary show, the doc is a nice look inside the Stripes' ways and workings (one radio host in Yellowknife notes that the band have the best-dressed roadies he's ever seen) but also works as a pure blast of the fierce joy of live rock 'n' roll.
Read the rest of his dispatch here.