Friday Night At The Movies
Funny or not funny? 'Death at the Funeral'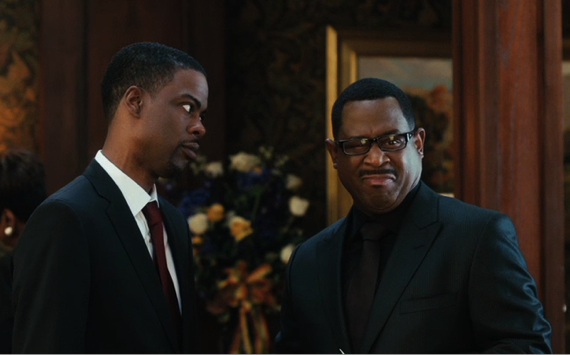 "Death at the Funeral"-- the American re-make of the British comedy -- is receiving mixed notices, which seemed expected. You could tell by the audience reaction during the film's trailer that the movie would be mixed. The movie stars Chris Rock, Danny Glover, Regina Hall, Martin Lawrence, James Marsden, Tracy Morgan, Zoe Saldana, Columbus Short, Peter Dinklage and Luke Wilson, all thrown together for one day at well, the title: a funeral.
Though some are surprised by the choice of director Neil LaBute, he seems perfect to me. He also directed Chris Rock in one of his best roles, as Morgan Freeman's partner/secret son in "Nurse Betty." For a director who started with the acerbic, "Carnal Knowledge-esque" pictures like "In the Company of Men" and "Your Friends and Neighbors," he's equipped himself fine with more mainstream projects -- including the much maligned "Wicker Man," a movie
I will defend to the very last bee sting
. That movie was funny. All of his movies are funny. Neil LaBute understands dark, absurd humor.
And according to
Roger Ebert
, he made a funny movie, and one even better than the original:
"I laughed all the way through, in fact. This is the best comedy since "The Hangover," and although it's almost a scene-by-scene remake of a 2007 British movie with the same title, it's funnier than the original."
On the other end of the spectrum is
Kirk Honeycutt at the Hollywood Reporter
. He wrote:
"But nothing taps his own particular talents to unsettle audiences with truly edgy material. Funeral gets no more edgy than a potty joke and a corpse tumbling out of a coffin. This is nothing more than juvenile slapstick."
Curious. Of course I will see it and report back. In the meantime, read more reviews of this movie at
MetaCritic
.