Day of the Dolphins
Much love for Dolphin Doc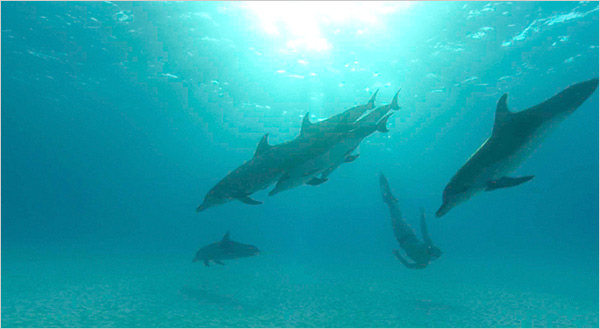 I've given in to nature documentaries. From Werner Herzog's anti-cute-fluffy-Penguin ecstatic spectacular "Encounters at the End of World" (and "Grizzly Man" -- and really, anything by Herzog that involves nature, Klaus Kinski and Kasper Hauser, which means basically, everything by Herzog, whom I revere)...anyway, from unconventional Herzog to voice of god David Attenborough, I will more often than not always be transfixed by birds, bees, bears and bugs. 
So the dolphin doc, "The Cove" is yet another work that will thrill me more than I ever imagined. Also, it will cause me to happily watch Mike Nichols' "Day of the Dolphin' (and driving friends crazy with "fa" "ma") yet again. 
The Sundance award winner "The Cove" will open in select cities July 31 and should move wider -- it's already receiving great notices. Here's a wonderful write-up from the New York Times:
"Like many people in his generation, Louie Psihoyos was a landlubber who grew up watching 'Flipper' and Jacques Cousteau adventures on television. After National Geographic magazine hired him straight out of college as a staff photographer, his admiration for the intelligence and beauty of dolphins, and for the oceans as an ecological system, grew as he learned how to dive and began to work underwater.
But none of that quite prepared him for the experience of making 'The Cove,' an award-winning documentary about the clandestine slaughter of dolphins in Japan that opens July 31. The film is the first that Mr. Psihoyos — 'rhymes with sequoias," he said — has directed, and everything about it has been a challenge, from having to make the transition from still photography, to the subject matter itself, to the cloak-and-dagger techniques used to obtain images that range, as Mr. Psihoyos put it, "from the heartbreakingly beautiful to the heartbreakingly sad.'
"'The Cove,' in other words, is an unconventional documentary, one that looks very much like a feature film, with the dramatic arcs and suspense one would expect in a James Bond or Hollywood action movie."
Read the entire review here.