Who's That Channing Tatum?
GQ goes to the ranch with Channing Tatum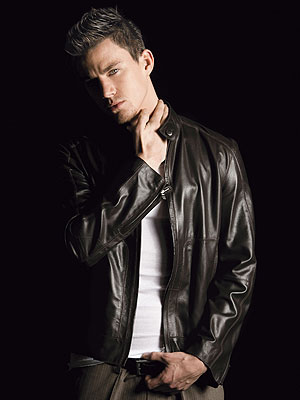 He may be starring as the new GI Joe, but apparently Channing Tatum is really the new Joe Buck. He survived that horrifying bus ride to Florida (I'm just going to pretend he took a bus...with Ratso expiring directly after buying their new summer shirts), got a job in Palm Beach, became a model and now, a movie star.
Here from the GQ cover story on the rising young star (who, I can say from first-hand knowledge, is very nice in interviews). After getting free drinks from a lonely one-armed woman in an airport bar, and waving hello to truck drivers who mock his fancy pants car (with Scottish driver -- who is he? Jean Harlow?) Tatum keeps it real on his uncle's Alabama ranch:
"A few miles later, we pull up to the ranch. It is some gorgeous country. 'That's his house over there,' says Chan, pointing to a log cabin in the distance. 'And that used to be my nanny's house.' (He means nanny as in grandmother.) 'And that porch right there was, like, my childhood. And that pond was where I used to fish with my nanny, right there. We used to fish with liver as bait.'

"We're heading down a long gravelly dirt road. 'Just pull up next to the shed,' Chan tells Thomas. It's like a big open barn, a former tractor shed with an outdoor kitchen, a stone fireplace, and a stage for when the wagon trains come through and they have a little entertainment. Bruce is waiting by a smoker made from an old propane tank, where he has six chickens roasting for dinner. Aunt Dot is at the outdoor stove whipping up corn bread and peach cobbler. Twenty-four of Channing Tatum's relatives—including Denver the fireman and Dustin the professional bull rider—are due here any minute. But that's not unusual. Most of these relatives live on the ranch; the rest are a stone's throw away.
"'Boy!' says Uncle Bruce, when he spots his nephew. They hug like they both just got out of prison.
Read the entire interview here. This is some old school studio stuff. If I find out Louis B. Mayer is still alive and made all of this folksy material up (with tears streaming down his face), I wouldn't be surprised.