'Basterds' Glourious Box Office
'Inglourious Basterds' make a killing over the weekend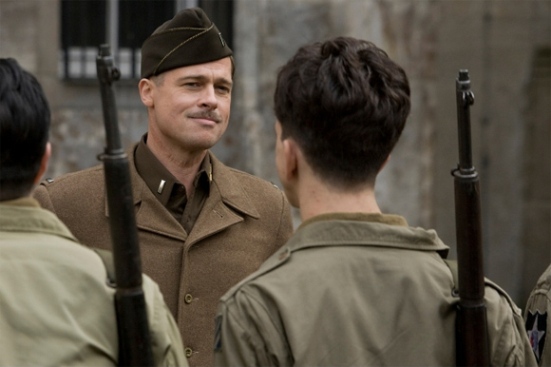 This is heartening. Forget David Denby's withering review at The New Yorker, or Manohla Dargis' dig at the New York Times, audiences, those audiences many critics projected boredom from, loved "Inglourious Basterds."
I'm not going to get all populist here and say, who needs film critics. Writers are needed to expand your knowledge of movies or to deepen, entertain or enrich your viewing of a film -- good writers, rather. I've always believed in reading reviews after the movie. Don't use film critics like you use Consumer Reports. And I hope audiences did just that.
"Inglourious Basterds" is a war film, a period film that's often in French and German and with subtitles. It's over two and a half hours long. The cast is mostly unknown and European. And Brad Pitt, the picture's supposed star isn't the lead character. And it's number one. No matter what critics thought, they should be happy for that reason alone.
Sharon Waxman at The Wrap, ponders how the movie reached it's top ranking. She puts it together nicely:
"Say what you like about Harvey Weinstein. But when it came to marketing "Inglourious Basterds," he hit it out of the park. The movie beat even the highest box office projections by more than $10 million.
"That's worth a closer look... thanks to some very savvy salesmanship, you wouldn't have known any of that from the poster, the trailer or any of the cast interviews. That looked like raging, rocking, Grindhouse-meets-Saving Private Ryan. The trailer was all about Aldo Raine (Pitt) indoctrinating his band of Jewish soldiers in the cult of brutality (scalping! cool!) they intend to impose on the Nazis. But in reality, that's a minor piece of the film.
"Instead, Tarantino has made an extremely sophisticated World War II fantasy, layered with rich characters, taut dialogue and (in my book) at least two scenes that will be written about in cinema study classes (the opening scene, and the one in the bar; if you haven't seen the movie I'm not going to ruin it for you).
"But here's the thing about good filmmaking. Audiences that went to the movie expecting to see Brad Pitt rampaging across Europe were not disappointed. They were rewarded with a good story and interesting characters -- though not what they were sold in advance.
Exit polls were high, the Cinemascore was A-. Score one for good story-telling." 
 
Yes indeed. Read her entire take here.