What Makes Ben And Jerry Run?
Ben Stiller and Jerry Stahl discuss Budd Schulberg
Actor, director and writer Ben Stiller (need I list his credits) and writer/memoirist Jerry Stahl ("Permanent Midnight," "Fatty") discuss Budd Schulberg and their long attempt to put the journalist/screenwriter/novelist's work to the screen.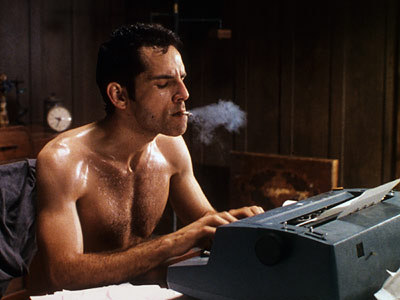 From the Huffington Post:
"I guess you could say that our relationship with Budd Schulberg was typical Hollywood: we met him, we liked each other, and in the end, we kind of broke his heart. But that didn't mean we didn't stay friends. In Hollywood, nobody will hurt you like your friends. It's a given. Sometimes it's intentional, Sammy Glick-style, but it's worse when it isn't. Which doesn't make it any easier to write about. We both ended up loving Budd and, given the shot, like many others before us, we couldn't get the movie of his classic, What Makes Sammy Run?, made. Why us? Why did we think we could do what others had not done for 60 years?
"Why not us, we thought at the time. Of course, here we are 13 years later, and not quite there. Okay, nowhere. And Budd, rest his soul, was a lot more gracious about our failure than his indelible Sammy would have been. As Al Manheim, Sammy's Boswell put it: "Sammy always made you feel that any confession of failure was on level with admitting that you had a yen for nothing but female dogs and ten-year-old corpses..."
"Recently we sat down to fake interview ourselves about how it all didn't happen, or maybe just to commiserate -- not as much about not getting the movie made, but about how we had finally lost an unlikely friend.
"Ben: In '96 I got a new agent right before The Cable Guy bombed. His first piece of advice was not to do anything for six months. He said I was in "movie jail." I had time to read. Billy Gerber and Gene Kirkwood, at Warner Brothers, somehow got the idea to give me a shot at greatness. They said why don't you direct and act in Sammy. I read the book and loved it. Sounded like a good idea to me, especially considering my incarceration. The financing for the movie I was waiting to play Jerry Stahl in -- Permanent Midnight -- was taking a while to come through (if ever, according to my agent/jailer), so I asked Jerry if he wanted to work on re-writing Budd's script with me in the meantime. Why did I ask Jerry? I knew he was a good writer and I was scared out of my mind to try to do it alone.
"Jerry: Ben Stiller, fresh off Cable Guy, Jerry Stahl, fresh off a park bench in MacArthur Park. In retrospect, I can imagine how thrilled Budd Schulberg, the man who wrote On The Waterfront, must have been to have a couple of giants adapting the greatest work of his lifetime.
It was not like we were the first to tackle Sammy. The book has already shown up as a live television drama on Philco Television Playhouse in '49. It was revived in 1959 as a two-parter on NBC, with future Dynasty giant John Forsythe as Al Manheim and Larry Blyden as Sammy. Steve Lawrence starred in a Broadway musical version in 1964. (Weirdly, three years before Hair.)"
Read the entire piece here.