'Zombieland' Set Visit
MSN visits 'Zombieland,' talks about twinkies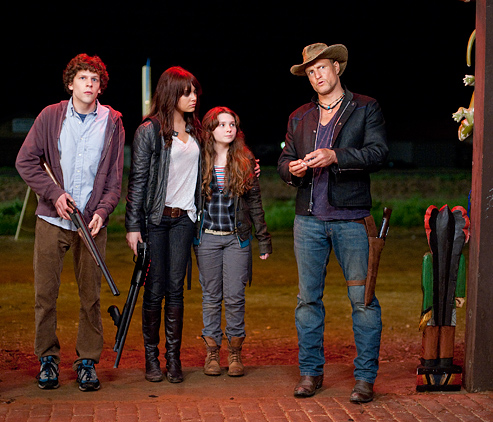 If you throw together a cast, any cast, and simply apply the term "zombie movie" to the picture, then any actor under the sun will make sense. Ernest Borgnine and Vanessa Redgrave? Sure. Mia Farrow and Sorrell Booke? Why not? It's like assembling an Irwin Allen extravaganza or a Robert Altman festival or a Simon West action feast (think of "Con Air"). So Woody Harrelson, Jesse Eisenberg, Emma Stone and Abigail Breslin go together just fine in a movie that is aptly titled, "Zombieland."
And MSN Movies goes to the set to take a look at our newest cast of undead. According to Zombie correspondent James Rocchi, the movie has some intriguing personality tweaks, specifically involving the lead charachter:
"Director [Reuben] Fleischer explains how Harrelson's character Tallahassee is a 'real, weird cowboy kind of post-apocalyptic zombie badass,' which sounds familiar enough, until Eisenberg ('Adventureland,' 'The Squid and the Whale') explains that one of Harrelson's character's biggest motivations is how 'his character is obsessed with finding a Twinkie in a post-apocalyptic world, and every time we go somewhere, for one reason or another, the Twinkies are not there. '"
OK, now it just sounds like another kind of movie that can be oddly cast -- stoner comedy. Zombie stoner comedy. Maybe there's a surprise here.
Are you sure you want to delete this comment?