I Heart 'The Mighty Boosh'
'The Mighty Boosh' and their...fans.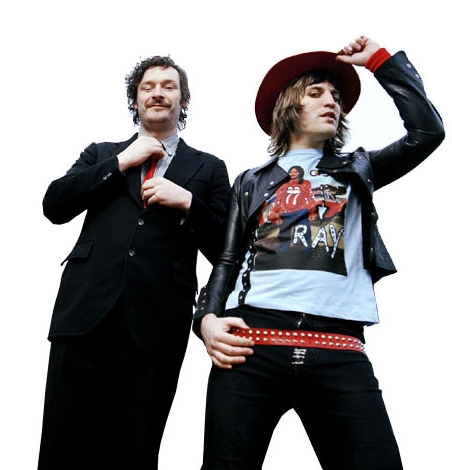 I absolutely worship "The Mighty Boosh," aka the comedy and musical genius of Noel Fielding and Julian Barratt. It's one of the greatest comedy shows since Monty Python (really) and the Brits are finally catching on in the United States. You can watch them late night on Adult Swim. And you should. And I'm hoping for a movie.
But um...are the fans beginning to look like, oh dear god help me for saying this, a high rent version of the Juggalos? (See post below). After watching this interview with Barratt and Fielding via Boing Boing, I'm starting to fear as much. It's not their fault, and you can tell Barratt is annoyed by the geekery (as Fielding says of their visit to Comic Con, Barratt wasn't into it because "there was no one dressed like Miles Davis").
And I feel for you Barratt. Fans. I know we're all fans of something.  I dressed like Jimmy Page one day to high school, for heaven's sake. And we need fans. But basically any large group of people putting on costumes, swathing on creepy, poorly done white clown makeup, and drawing ugly tattoos on their forearms horrify me. That, or the Juggalos have left me with Post Traumatic Stress Disorder.
Here's the interview. Dear god I love them. Not enough to join Insane Boosh Posse, but I do love them so.