'Paranormal' Vs. 'Blair Witch'
EW's Owen Gleiberman compares the two films/phenomena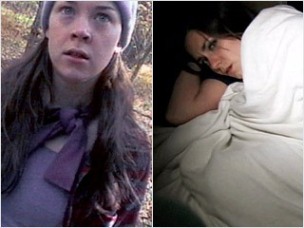 "Paranormal Activity" has been compared to "The Blair Witch Project" endlessly, but Entertainment Weekly's Owen Gleiberman makes an interesting case over which film is better.
Through compare and contrast, he offers some nice observations.
"Which movie is better?

"As a fan of both films, I confess that I haven't entirely made up my mind yet. In fact, here are a few of my back-and-forth thoughts:
"'The Blair Witch Project' did it first. Originality counts for a lot, and 'Blair Witch' gets points for inventing the whole peekaboo-vérité, form-follows-function, monster-mash-as-MTV-reality-show vibe.
"The two characters in 'Paranormal Activity' are more fun to watch. 'The Blair Witch' crew, apart from the fact that I totally bought their authenticity, never made that much of an impression on me; they were a tad nondescript. But the two 'Paranormal' actors, spiky/winsome Katie Featherstone and nattery/glum Micah Sloat, pack a yeasty little couples drama, which they more or less improvised, into the movie. Their interaction is tense, affectionate, cranky, and alive, even when they get on each other's nerves (or, on occasion, ours).
"Most memorable iconic shot: In 'Blair Witch,' it's that kid literally dripping with fear while talking into a flashlight. In Paranormal, it's that endlessly varied surveillance-cam shot of the bedroom — a slow-dawning view of primal terror on a time-code.
"'Blair Witch' convinced a lot of folks it was real. Ten years ago, that was an amazing stunt to pull off.
"'Paranormal Activity' is 'only' a movie. Which reminds you, 10 years later, that you don't have to believe a horror movie is real to believe in it."
Read his entire take and decision over which film is actually scarier here.