The Fine Art Of Feeding Bloggers
'Julie & Julia' gives bloggers, literally a lot to chew on...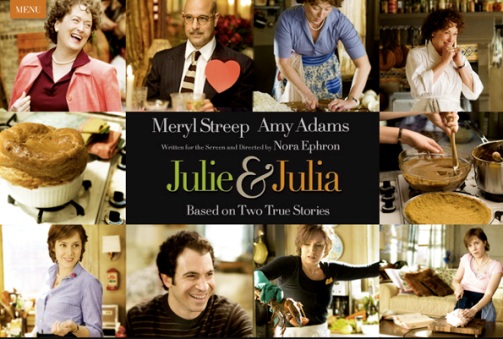 Key word here is: food.
To promote the food loving, blog-centric, Julia Child, Julie Powell movie "Julie & Julia" Sony, by way of the Le Cordon Bleu Institute in Hollywood, fed bloggers grapes (well, actually Beef Bourguignon, one of famed chef Julia Child's favorite dishes) and a lot more.  The movie, starring Meryl Streep and Amy Adams features two parallel stories -- one about frustrated writer Julie Powell (Adams), who turns her love of food not just into a food blog, but the "Julie/Julia Project."  That project covered her endeavor to cook all 524 recipes in Julia Child's classic cook book, "Mastering the Art of French Cooking" -- a highly ambitious project indeed.  Concurrently, the picture shows Julia Child (Streep), following her rather humble beginnings as a lover of French food, to famous author, acclaimed chef and uniquely interesting woman. A one of a kind.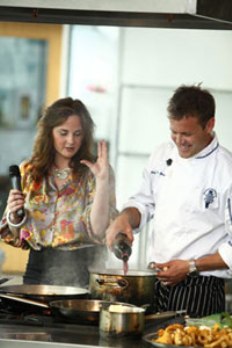 The event featured the real food blogger Miss Powell, who was a delightful, charmingly acerbic woman in person (much more than her on-screen alter ego, Adams) with Bravo Top Chef Brian Malarkey. The two cooked food, chatted about the movie, covered the experience of working with the picture's cast, including the legendary Meryl Streep and director Nora Ephron, whom Powell described as "scary."  But in a good way.
"Nora Efron, is a scary woman, terrifying, but she knows how to make a movie."  Powell went on to describe Amy Adams as cute and probably a lot cuter than her  -- as in sweeter. Not that Powell wasn't nice -- she was -- but she was quick witted and sassy and unafraid of a few curse words now and again (this means, I loved her. She needs her own show). Powell also shared some interesting thoughts about blogging, and to a room full of bloggers, resisted calling herself one. I pressed her on this a bit, about the negativity and lack of professionalism that can come from blogs and she agreed. But she admired the medium and of course, credited it for changing her life in so many ways. "I love bloggers. There is a free sense of expression; you can write exactly what you feel." That being said, she agreed with me that the word "blog" is an ugly one. For a woman who loves the sensual, lyrical qualities of food and writing, "blog" is not a dish she'd like to serve.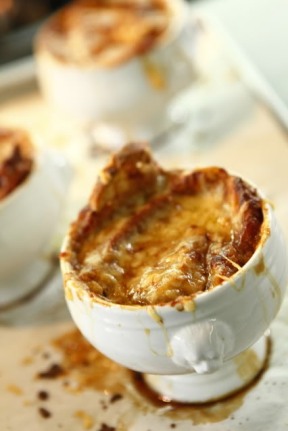 Next up was culinary consultant and food stylist Susan Spungen who has worked for Martha Stewart Living magazine and has appeared on Stewart's TV show, as well as numerous other apperances. Unlike Julie Powell, Spungen really did meet Julia Child, which was a thrill, and she wanted to remain incredibly faithful to how the food would taste and look according to Child's cook book. And then...she made onion soup (at times the event took a surreal tone. Melting cheese over onion soup? Delicious but, I have never attended a press event where I've witnessed such a thing). 
Actor Chris Messina (who plays Powell's husband in the movie) gamely came on board, and was incredibly down to earth and, again saucy (was it all that food? Everyone here was saucy!). Discussing everything from the joy of working with Amy Adams to becoming inspired by Julia Child, he also talked about just how much he ate for the film. For authenticity, he had to chow down -- a lot. To avoid balooning, to not allow his fine physique to turn into the next Louie Anderson, the actor would simply not eat all day before shooting. I asked him if he developed something of an eating disorder, and he laughingly admitted, "yes." Looking at him now, however, I'm sure he's just fine.
As was the resulting food for all of us writers (ugh, not bloggers!) to enjoy. Because everyone knows that any freelance writer who sits in front of a computer all day, living off nutrition bars and Diet Cokes, well, the best way to their heart is just like a man: through their stomach.
"Julie & Julia" opens Friday, Aug. 7