A Big Deal
'The Big Valley' on the big sreen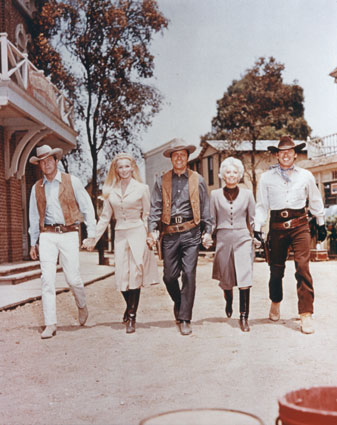 O.K. Hold all my calls, Velma. This is some big movie news in my world -- literally. "The Big Valley" on the big screen.
"True Blood" actor Stephen Moyer is set to star in two big movies. One, the thriller "The Double" (which I thought might be based on the Dostoyevsky story but is not -- for better or for worse). That features Richard Gere and Topher Grace.
But...this is the one that got me: "The Big Valley." Yes indeed, Hollywood is making a big screen version of the 1960s Barbara Stanwyck-starring western series, "The Big Valley," a sort of companion piece to "Bonanza" and one that ran on syndication for years. I loved it as a kid. 
The show, which also starred Linda Evans, Lee Majors, Richard Long and my beloved Peter Breck (check him out in Sam Fuller's masterful "Shock Corridor") was a terrific vehicle for Stanwyck, who absolutely could not give a bad performance. So, I'm a bit worried about this project. On the bright side, the uber talented Jessica Lange will walk in Bab's boots.
But please Hollywood. Don't mess this one up.
And here's the great Timothy Carey guest starring on "The Big Valley" -- I so wish he could appear in the movie. Alas, most of the greats are gone.