'Tycoon RollerCoaster' Announced
And it has nothing to do with love...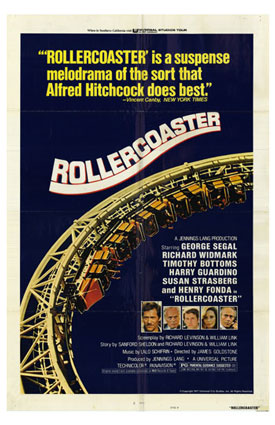 Remember that 1977 movie "Rollercoaster" starring George Segal, Richard Widmark and Henry Fonda? It was always on TV.  No? Well, you should.
As a child, that thing was scary. As was that great Ohio Player's song, which my older brother convinced me involved an actual death on a roller coaster. The "Love Rollercoaster" was apparently so dangerous that the lady screaming during the funky mid breakdown actually
fell out of the
roller coaster. I still have to remind myself that this never happened.
Anyway, the newest roller coaster movie has nothing to do with Fonda or Ohio, sadly. But perhaps it will be good. Perhaps.
According to
ComingSoon
:
"Sony Pictures Animation has pre-emptively picked up rights to video game 'RollerCoaster Tycoon," reports Heat Vision. Harald Zwart (upcoming 'The Karate Kid') is developing the live-action/CGI hybrid as a possible directing project and will executive produce.
"David Ronn and Jay Scherick, who wrote the upcoming Zookeeper and The Smurfs, are attached to write the screenplay.
"'RollerCoaster Tycoon' is a strategy computer game that simulates theme park management. Developed by MicroProse and Chris Sawyer and published by Hasbro Interactive, the game was released on March 31, 1999. It was followed by 'RollerCoaster Tycoon 2' and 'RollerCoaster Tycoon 3.'"
RollerCoaster Tycoon? OK. Let's refer back to The Ohio Players. God, things were so much cooler back then: