Go Joe!
'G.I. Joe' is number one at the box office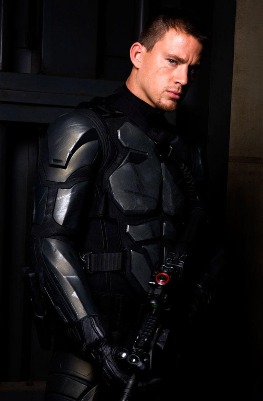 Yes indeed, all American hero "G.I. Joe" is absolutely critic proof. Not screening the picture for critics, the studio said, we don't need you and your hoity toity 'tude, film snobs. Let the people decide.  
Go Joe!
I realize, as something of a critic I shouldn't say this, but I do champion the free will of the American public. If they feel like seeing frickin' "G.I. Joe" after morning service, then have at it citizens of the world -- also it didn't mean they actually liked the movie. I bet many of them, including teenage boys (secretly) wished they'd watched Julia Child a la Meryl Streep whip up something tasty while Amy Adams typed about how she was going to do the same thing. (That's not "Julia & Julia" in a nutshell, but you catch my drift).  
With that, here's the top five movies over the weekend. "Julie & Julia" came in second:
1. "G.I. Joe: The Rise of Cobra," $56.2 million.
2. "Julie & Julia," $20.1 million.
3. "G-Force," $9.8 million.
4. "Harry Potter and the Half-Blood Prince," $8.9 million.
5. "Funny People," $7.9 million.