Random Email Of The Day
The brown brilliance of 'Let's Scare Jessica To Death'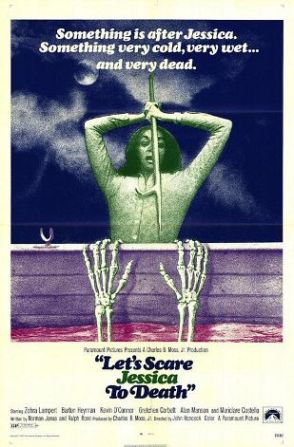 This was today's email from one of my good friends, a writer who will not be mentioned because he said "No"! Nevertheless, he's letting me post it, anonymously here. 
Since I'm frequently discussing the "brown feeling" with him (which means, basically, any person, place or thing that reminds me of rust colored pottery, Elton John's "Daniel," and my mother's pine green station wagon after the divorce), he's constantly assaulting me with examples of the "brown feeling." It's amusing, but I think he's trying give me a nervous breakdown.
Here's his mid-morning doozy -- "Let's Scare Jessica to Death." As per my friend:
"Arguably, the most brown feeling movie ever. Had there a bigger budget Shelly Duvall (Give me that Shelley Duvall from '3 Women' Shelley Duvall. That's what we're looking for baby!) might have been cast but then we wouldn't have the pleasure/nausea of Zohra Lampert who's non-stop 'everything's perfectly fine' smiling, mental-institute head shaking nervous tic combined with a voice so masculine that it would snuff the sexual proclivities out of even the most hardened rapist personality somehow manages to rest the trophy for 'Most Sexually Unappealing Actress Of All Time' from the hands of Tyne Daly.
"I mean, it's got post-meal lute playing, gravestone robbings, back rubs, an ugly vampire with a hair style to make Judy Collins proud, and a balding husband with thick sideburns wearing a turtleneck. Hell, there's even a moment where Zohra says 'Coffee will be served in the drawing room' with a fake British accent that makes all the skin that crawled off me when Jennifer Warren in 'Night Moves' said 'Stick with me kid...' [ed note: my friend actually loves Arthur Penn's masterpiece 'Night Moves' -- he just hates that one moment] slough off for good."
He's right. And with that, here's the trailer (BTW -- wasn't there supposed to be a re-make? I hope not. Stacie? Stacie Ponder? Do you know of this?) Anyway, no re-make can top this: