George Romero Continues To Raise The Dead
The iconic director at 70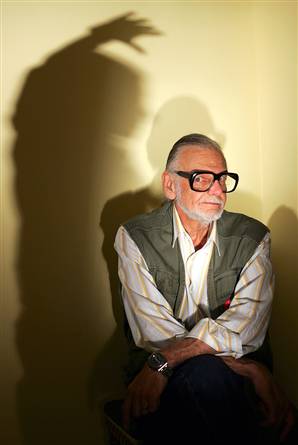 George Romero doesn't live in Pittsburgh anymore?
According to a recent interview (at
Shock Till You Drop
) with the iconic horror director, this is indeed the case. In fact, he's not living in the United States. He's "happily living in Toronto, Canada...and laying to rest the first quartet of the
'Dead'
films (from
'Night'
to 2005's '
Land'
) to make way for a new set that began with 'Diary of Dead' and continues with 'Survival of the Dead.'" 
The interview goes on to to say:
"A described modern 'western,' the film - the second in a proposed new quartet but Romero's sixth
Dead
picture - drops
Diary
's Alan Van Sprang, reprising his role as Sarge, into a bitter quarrel between two families on an island of the coast of the U.S. What's the dispute about? What to do with the walking dead, particularly family members and friends."
Romero came to Los Angeles for press and the 70-year-old shows no signs of slowing down, no signs of being out-moded, no signs of being, well,
less significant
. I like a cranky director sticking to the classic styles, ones valiantly eschewing video game/comic book/massive assault movies and such, but there's something nice about Hollywood employing a man who probably watched Elvis appear on "The Ed Sullivan Show" for the youth market.
This is rare. He's also getting more exposure based on X-box and VOD showings of "Survival of the Dead." He's like the Rocky Horror of movie directors -- young people discover his work while
he maintains a core audience of devotees.
Good for Mr. Romero. And read the entire interview
here
.